January Jones Was Denied the Vanderpump Rules Birthday of Her Dreams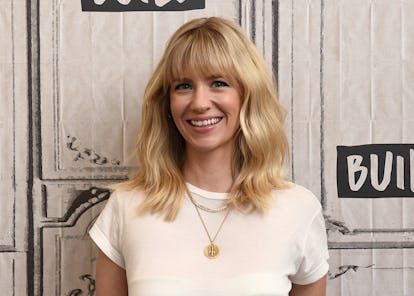 Ilya S. Savenok/Getty Images
If January Jones can't even swing a reservation at Pump, then who can? This week, the Mad Men star sat down with Yahoo! Lifestyle to talk her Vanderpump Rules obsession, and in the interview, she revealed that she had tried and failed to secure her birthday party at Lisa Vanderpump's iconic restaurant.
"I had my 40th birthday this year and I called Pump to try to do my party there," she told Yahoo! Lifestyle. "No one called me back. My publicist called. My best friend called. We called and called and called and called. It was over the holidays, but still. No one responded." While this seems like an understandable mix-up, the actress made it clear that she hadn't just left a bunch of voicemails. "One time I called, I got a girl and she's like: 'We'll call you back.' Nothing. I called back again, no response," Jones said, adding that she even texted Bravo's Andy Cohen for the general manager's number, to no avail.
Undeterred, she decided to waltz in and let them know who's boss. "Around New Year's, I was going out to dinner and I said: 'You know what, I'm going into Pump,'" Jones told Yahoo! Lifestyle. "I walked in there and I was like Julia Roberts in Pretty Woman. I was like, 'Tried to call ya. Guess what: I'm not having my birthday party here. Big mistake. Big. Huge.'"
"They were like, 'What? I'm so sorry. OMG. We can arrange it.' I said: 'Too late. Already having it at a different venue.' So I was, like, peeved at them," she added.
But the story does have a semi-happy ending. According to Yahoo! Lifestyle, Jones and Pump agreed that the restaurant would throw her a half-birthday in July for free. Now this is the reality TV show drama we crave.
Related: January Jones Avoids Facials, But She's Down with "Vanderpump Rules"
January Jones Is a Versatile Beauty Who Can Be Simultaneously Pretty and Edgy
Jones stepped out at the New York Love Actually premiere in 2002 with with blunt bangs and rosy cheeks.

Getty
Wearing her blonde locks in a low tousled pony, plenty of mascara, and some nude lip gloss, Jones looked fresh-faced and happy at the American Wedding premiere in 2003.

Getty
With glowing skin and a tousled short bob, Jones hit the red carpet at an American Cinemateque dinner in honor of Julia Roberts in 2007.

Getty
Jones was glowing at the 2009 Annual Golden Globe Awards with her locks softly curled, a classic black winged eye and a coral lip.

Getty
Jones elevated her up do with black satin headband at the 67th Annual Golden Globes Awards HBO After Party in 2010.

Getty
Rocking an edgier look, Jones attends the Unknown premiere in 2011 with a sleek up do, a matte golden eye and a red lip.

Getty
The actress wore her hair in a wavy up do at the 41st Annual Peace Over Violence Humanitarian Awards in 2012.

Getty
At the 65th Annual Primetime Emmy Awards in 2013, Jones wore her blonde locks in big waves, with a purple smoky eye and nude lip.

Getty
Jones went boho at the Mad Men Season 7 premiere in 2014, wearing her long locks in a tousled braid and an electric blue and gold eye.

Getty
The actress attended the 67th Annual Primetime Emmy Awards in 2015 with a natural beauty look: soft hair, a neutral eye, and luminous skin.

Getty
Jones stepped out as a brunette at the Fox TCA 2016 All- Star Party with her locks in a tousled braided up do and deep berry lip.

Getty
Black to blonde, Jones wore her hair in soft curls, with a black winged eye and a red lip at the 16th Annual AFI Awards in 2016.

Getty