Japan's Princess Ayako Is Giving Up Her Royal Title to Marry a Commoner, Just Like Her Cousin Princess Mako Did Last Year
She's leaving the imperial family for a commoner.
---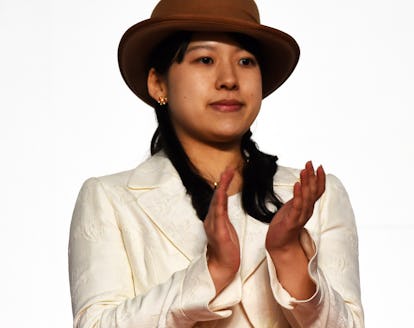 Etsuo Hara/Getty Images
For all of the breakups 2018 has thrown at us, there's been an equal amount of new love stories. Princess Ayako is one more to add to the list, following Meghan Markle and Prince Harry's wedding of the year and Ariana Grande and Pete Davidson's surprise engagement. The 27-year-old daughter of the late Prince Takamado, who was seventh in line to the Chrysanthemum Throne before his untimely death, is giving up her royal title in the name of love.
Princess Ayako is leaving the imperial palace to marry a commoner later this year. On August 12, she'll become officially engaged 23-year-old Kei Moriya, according to The Japan Times, in a traditional court ceremony known as "Nosai no Gi". Then, on October 29 at Meiji Jingu Shrine in Shibuya Ward, Tokyo, the pair will become husband and wife.
The bride has known the lucky groom for less than a year. Interestingly, she met Moriya, who happens to work for Japanese shipping firm NKY Line and is a board member of a Tokyo nonprofit that benefits children, thanks to her mother. In a story begging to be turned into a rom-com, Princess Ayako's mom, Princess Takamado, introduced them in order to expose her daughter to more philanthropy with help from Moriya's mother, who was also on the board of the nonprofit. Princess Ayako ended up falling in love with Moriya, and the rest will be history.
Japan has a lineage of princesses who've been bold enough to turn down their royal titles for love. Last year, Princess Ayako's second cousin, Princess Mako, who was also the oldest grandchild of the Emperor Akihito, gave up her royal status to marry a legal assistant and her college classmate, 25-year-old Kei Komuro. Before that, Princess Mako's aunt, Princess Sayako — who is the Emperor's sole daughter — ditched her royal title and allowance to marry a commoner.
Which is to say, Japan's monarchy has a pattern of outwards migration, something that is putting its future in a precarious position. While females within the royal family are not eligible for the throne and don't pass down their royal status to their children — a dated, sexist system than the majority of Japanese people are in support of changing, according to The New York Times — they're still members of the royal family. Many have speculated that the Japanese royal family isn't in a position to lose any members, as there are only five male members remaining, as NBC notes.
Those next in line for the throne? Akihito's sons, 57-year-old Crown Prince Naruhito and his successor, 51-year-old Prince Akishino. They may have the crown, but they don't a story that makes even the biggest skeptics believe in love.