Jason Momoa Comes Back as Khal Drogo to Host a Talk Show on Saturday Night Live
The Khal and other fallen 'Game of Thrones' characters were revived on 'SNL'.
---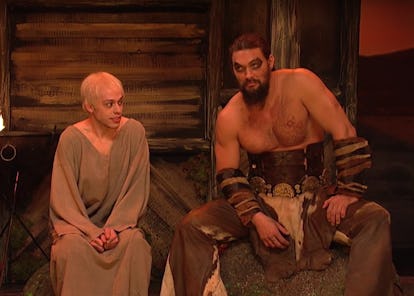 YouTube/Saturday Night Live
It seems like only yesterday we were watching Daenerys Targaryen (Emilia Clarke) smother husband Khal Drogo (Jason Momoa) to death with a pillow at the end of the first season of Game of Thrones. Since then, however, the Khal has moved on to bigger and better things: Namely, a public access talk show in which he interviews his fellow fallen GoT characters.
Momoa's hilarious role reprisal came courtesy of this weekend's episode of Saturday Night Live, which was hosted by the Aquaman star. In the latest installment of Khal Drogo's Ghost Dojo, the Khal and his bloodrider co-host, played by Kenan Thompson, chat with several ghosts of GoT seasons past, including Hodor (Beck Bennett) and the High Sparrow, played by Pete Davidson, whose platinum hair and pale skin make him the spitting image of the "potato sack"-clad cult leader.
Next to appear is Brienne of Tarth (Heidi Gardner), who isn't actually dead, just determined to uphold her promise to protect the Stark children at all costs, and who tees up a tongue-in-cheek dig at Kevin Hart's recent Oscars hosting snafu. "If this man wants to fight, I'll give him what he wants," Momoa says in Dothraki. "Man? Wow. You have a lot to learn about identity politics," Brienne responds, prompting a chastised Momoa to quip, "You're right. Khal need to learn from Khal's mistakes or Khal will never host Oscars."
The final guest is King Joffrey, played by Kate McKinnon, channeling the infamous 2016 Dr. Phil appearance that turned Danielle Bregoli into Bhad Bhabie. As Joffrey is booed by the crowd, he implores them to "cash me ousside," claiming, "They simply cannot handle all of this. I feed off the haters." Fortunately for all involved, the Khal signs off before the show can devolve into a full-on Maury episode.
Though it's unlikely that any of these characters (sans Brienne of Tarth) will actually return from the dead in the final season of Game of Thrones, which is set to debut sometime in the "first half" of 2019, we do know that the late Khal's wife will still be pursuing her goal of winning the titular game of thrones and regaining her rightful role as queen of the seven kingdoms. Before she does that, however, as seen in the brief teasers HBO has released in the lead-up to the eighth season's premiere, Daenerys will first have to team up with Jon Snow, Sansa and Arya Stark, and Cersei Lannister, among other rivals, to defeat the Army of the Dead—which, hopefully, won't include the Khal, Hodor, or any of the still-living characters' deceased loved ones.
Related: A Brief History of Male Actors Complaining About Superhero Costumes
A Brief History of Male Actors Complaining About Superhero Costumes