The Behind-the-Scenes Photos From Jay-Z's "Family Feud" Video Are Epic
Ava DuVernay directed the star-studded affair.
---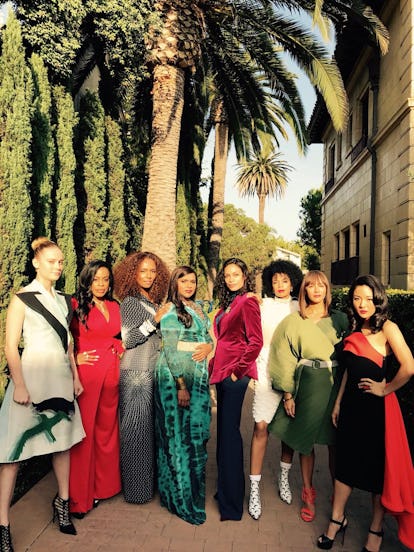 Instagram: Mindy Kaling
If the Ava DuVernay-directed version of the future is anything like what's actually coming, 2018 might not suck after all. Her new video for Jay-Z's "Family Feud" (available only on Tidal so… sorry about that) is a gorgeously shot vision of a diverse, women-first world featuring pretty much every star we love—and the behind-the-scenes photos are a treasure unto themselves.
There's this picture, of the "Founding Mothers" of the "Family Feud"-verse, aka Brie Larson, Niecy Nash, Janet Mock, Mindy Kaling (who also stars in DuVernay's upcoming adaptation of A Wrinkle In Time) pregnant with daughter Katherine, Rosario Dawson, Susan Kelechi Watson, Rashida Jones and Constance Wu. How do we make these nine women the actual supreme court? Like, literally, the United States Supreme Court right here… is that possible?
In the video, Kelechi Watson plays a grown-up Blue Ivy recounting the story of her parents taking her to church in 2018 as the story moves through various future decades and scenes of love and infidelity and passion and betrayal.
The eight-minute-long video begins with a quote from James Baldwin and weaves in not only American history but also medieval and religious imagery and Native people in power.
As DuVernay explained on Twitter, this is a vision of an America with co-POTUSes, a man and a woman (which, oddly, is also how my high school ran the student body council): "Thanks for noticing. In this future, due to harm currently being done, America demands that the position of POTUS be filled by two people. Here Mister President is played by my fam @OmariHardwick and Madame President is played by the stellar Native American actress @IreneBedard1," DuVernay posted.
And Thandie Newton and Trevante Rhodes and Michael B. Jordan and Jessica Chastain and more live in this America, no big.
Basically, if this thread of behind-the-scenes shots and inspiration from DuVernay doesn't make you sign up for Tidal immediately, nothing will:
What could possibly top this? Oh right, Bey and Jay are working on a joint album.
Related: Jay-Z's "Family Feud" Video Features Beyoncé, Blue Ivy, and a Literal Stab in the Back