Jennifer Aniston and Courteney Cox, Friends Friends, Are Still Friends
Despite tabloid rumors to the contrary, they're still happily attending film premieres together.
---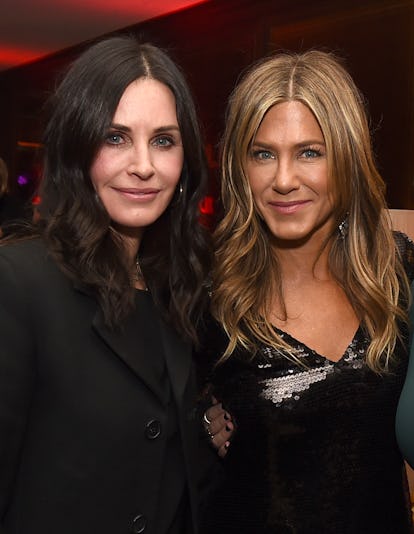 Kevin Winter/Getty Images
Despite an anonymously sourced tabloid report earlier this week that claimed Jennifer Aniston and Courteney Cox had recently "grown apart"—the source of the alleged drama: Cox's apparent continued friendship with Aniston's ex-husband Justin Theroux—there's some strong new evidence to the contrary. On Thursday night, Cox appeared at the premiere of Aniston's new Netflix film, Dumplin', in Los Angeles, swiftly dispelling any notion of a rift between the two.
As InStyle reports, the Friends friends walked the red carpet separately. Once inside the party celebrating the film (which also stars Danielle MacDonald as Aniston's unlikely pageant-girl daughter), they posed for a photo, staring into the camera side by side in matching smiles and center-parted hair. They both wore black: a sequined Stella McCartney minidress for Aniston, and for Cox, cigarette pants and a long overcoat.
Also in attendance was one Dolly Parton, after whom Aniston reportedly named one of her dogs, and with whom Aniston has recently cultivated a delightful friendship since recruiting Parton to soundtrack Dumplin'. (As Rolling Stone tells it, Aniston asked Parton for permission to use a few of her songs in the film, and Parton not only agreed but also went on to write six new songs for it.) Parton had a coordinating friend of her own—the drag queen Jason CoZmo—so she wouldn't feel left out of Aniston and Cox's inside jokes.
Though Parton was recently asked to rank Friends characters on James Corden's The Late Late Show, she stuck to the male cast members, so Cox was fortunately exempt from her judgment. On the same episode, Aniston fantasized about a Golden Girls–style reboot of Friends, in which she, Cox, and Lisa Kudrow would reunite several decades after the run of the original series. If and when that idea comes to fruition, Parton will certainly need to be included: She could rerecord that iconic theme song or, in a pinch, step in as Phoebe if Kudrow is otherwise occupied.
Related: Dumplin' Trailer: Jennifer Aniston Plays the Ultimate Texas Pageant Mom