Jennifer Lopez and Donatella Versace's Friendship Began at the 1999 Met Ball After Gianni Versace's Death
They bonded over the death of Gianni Versace at a Met Ball.
---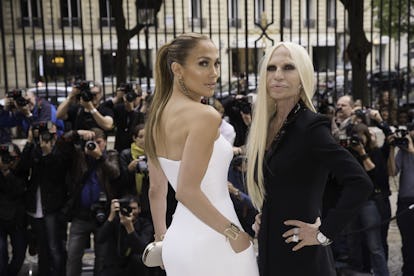 Stephane Cardinale/Corbis via Getty Images
There are few celebrities whose affiliation with a brand is as storied as Jennifer Lopez and Versace. Over the singer's three-decade career—not that you'd be able to glean that from any recent photo of her—she's had the brand to thank for her most iconic moments. (Case in point: It's been 18 years since her 2000 Grammys dress and we're still talking about it.) In the process, Lopez relationship with the brand's design head Donatella Versace has become a full-on friendship.
As it turns out, their friendship was born out of grief. The first thing they bonded over was the death of Versace's brother Gianni, as Lopez revealed in a new interview with Vogue. Two years after he died, the pair met at the 1999 Met Gala, which Lopez arrived to as Sean Combs's date. "My heart went out to [Donatella]," she said. "I just kept touching her and holding her hand. She felt so fragile at the time. And she remembered that and we kind of bonded after that. She was so kind and so sweet to me, and we always kept in touch."
Over the course of their friendship, the pair collaborated on Lopez's attire. "She was always sending me dresses for whatever I needed," she said. "It was a natural, organic relationship that wasn't forced. It is a friendship that goes back many years." Perhaps not surprisingly, Lopez will be wearing "something Versace" when she takes the stage at the upcoming MTV Video Music Awards to accept the MTV Michael Jackson Video Vanguard Award.
Earlier this week she made headlines when wearing Versace thanks to her jeans-like denim boots that she wore in lieu of pants. At the time, many commented on how similar her look was to Ariana Grande's, but as W noted, Lopez has owned the slicked-back ponytail and hoops earrings look since the '90s.
"It was hoops, big accessories, and jewelry," she told Vogue, reflecting on her early style. "Where most women would be like, 'That's not chic in the fashion world. Like less is more and all that,' that is the one place where I express myself and where I am from really comes into play. That urban, hip-hop, Latina upbringing. With adornment and the more jewelry we had, we aspired to that glamour, that Hollywood type of glamour, and we associated that with pretty things and jewelry. That is something that is from that time and is a big part of my style now."