Jessica Chastain Is Surprised By Her Golden Globes Nomination After Refusing to be Silent About Sexual Assault
Not too surprising, though, when you consider a famous male actor told the Oscar winner to "calm down" about Harvey Weinstein.
---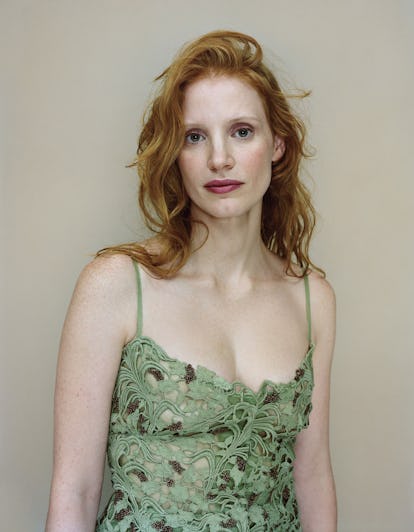 On Monday, Jessica Chastain learned she'd been nominated for Best Actress for her role in Aaron Sorkin's Molly's Game, marking her fifth Golden Globes nomination to date. This one, however, was unexpected: "To be honest, I'm mainly surprised about my nomination," Chastain told the Times about the blowback she's experienced to speaking out repeatedly since the Harvey Weinstein scandal broke—including having a famous male actor at one point tell her to "calm down."
"As an actor, I have a lot of fear, thinking that if I speak my mind, or something that feels like it deviates from the norm as a woman, am I going to be made to disappear in my industry?" Chastain, an Academy Award winner, continued to the Times. "When the article came out about Weinstein, I immediately started tweeting. I've got a good group of girlfriends on WhatsApp, and I said, 'I'm really terrified I'm destroying my career right now. I wonder if people will still see me as an actress, and want to work with knowing I have these opinions.'"
Thankfully, "in the way that only good girlfriends can do," Chastain's crew got her over her fears and to realize, again, that "the only way to change something that's wrong is to change it, not ignore it."
But Chastain's fear is all too understandable: Weinstein employed a virtual army of spies to keep track of his victims—which included many women whom he initially offered screen roles in exchange for submitting to his abuse—and the threat of other abusers is all too real, too: Selma Blair, for one, feared for her life when the director James Toback, whom more than 300 women have accused of sexual harassment, told her after he harassed her that if a woman decided to tell anyone about his actions, he "had people who will pull up in a car, kidnap her, and throw her in the Hudson River with cement blocks on her feet."
The fact that it's taken this long—in many cases, decades—for these stories to break is proof in and of itself that those subjected to Hollywood's predators and abusers have also been overcome with fear at the prospect of speaking out. (Including their employees, who also worried that doing so would threaten their careers.)
Now, however, "it really is a new world," Chastain said, citing a Margaret Mead quote: "Never doubt that a small group of thoughtful, committed citizens can change the world."
"And that's what we're doing," Chastain continued. It's clear, though, that the new world is only just starting to take shape. We still live in one where Chastain is genuinely surprised at not being banished from the industry for speaking up—even when the role for which she was nominated has already positioned her as an Oscar frontrunner.
Jessica Chastain's Style Evolution As the Ultimate Red Carpet Chameleon
Humble beginnings: Chastain is the ultimate early aughts girl in tattered boot-cut jeans and stripped pastel tee.

Getty Images
Attending a fashion week party in LA, Chastain looked cool and casual in a halter-neck black dress.

Getty Images
Once again, Chastain keeps it simple at classic at the opening of Othello at B-Bar in NYC wearing a little black dress.

Getty Images
Chastain at the Dior Haute Couture Spring 2009 show, this time in a ruffled strapless black gown.

Getty Images
The actress arrived at the InStyle magazine Summer Soiree party, beginning to experiment with color in a printed dress.

Getty Images
At the Somewhere premiere in Los Angeles, Chastain's sartorial verve appears in this adventurous floral frock.

Getty Images
Arriving at the GQ 'Men of the Year' party, Chastain chose a flirty red polka-dot cocktail dress and smoky eye makeup.

Getty Images
Shown here in a structured, ivory frock for the Decades Denim launch party. When in doubt: belt it.

Getty Images
In a flamingo-feathered pink cocktail dress for a Golden Globes party, with an emphasis on the statement pump.

Getty Images
At a W Magazine party for the Golden Globes at a light blue dress and black strappy heel.

Getty Images
For the I Am Number Four premiere in Los Angeles in a gathered, gold dress and matching heel.

Getty Images
Jessica Chastain in Zac Posen at the Tree of Life premiere at the 64th annual Cannes Film Festival in Cannes, France.

Getty Images
A lady-like figure in a shocking pink frock and black pump for a Pre-Oscar party.

Getty Images
At a Vanity Fair launch party in a dramatic Alexander McQueen peplum top and matching skirt.

Getty Images
A gilded McQueen gown for the 84th Academy Awards, as a loose up-do completes the look.

Getty Images
Arriving at the Calvin Klein Fall 2013 show in a chic coat and dress combo.

Getty Images
A vision in glittering Givenchy Haute Couture at the premiere of All is Lost.

Getty Images
Arriving at the 70th Annual Golden Globes in gorgeous celadon gown with plunging neckline.

Getty Images
Chastain wore Armani Privé to the 85th annual Academy Awards in February 2013.

Getty Images
The pockets on Chastain's black velvet Alexander McQueen dress and the hue of her multi-colored pumps were just fun enough for a daytime photo call.

Getty Images
Statuesque beauty in a custom Prada gown for the Interstellar premiere red carpet.

Getty Images
Recalling Félix Vallotton's 1924 painting Le Retour de la Mer in a beguiling Atelier Versace gown.

Getty Images
Chastain poses on the red carpet for the European premiere of the film Interstellar in London wearing a dusty rose gown by Saint Laurent.

Getty Images
Prim and pretty in an embellished Oscar de la Renta dress and gilded heel at the 40th Deauville American Film Festival.

Getty Images
Chastain arrives at 'China: Through The Looking Glass' in golden Givenchy Couture gown for ultimate movie star glamour.

Getty Images
In an Oscar de la Renta printed dress for the Jameson Empire Awards in London.

Getty Images
Jessica Chastain in Givenchy at the Toronto International Film Festival premiere of The Martian in Toronto, Canada, September 2015.

Getty Images
The lady is a vamp! In a dramatic, plunging gown by Versace at a Golden Globes party.

Getty Images
Jessica Chastain in Elie Saab at the opening of the Metropolitan Opera's 2015-2016 season in New York, New York, September 2015.

Getty Images
Jessica Chastain in Givenchy at the 87th annual Academy Awards in Hollywood, California, February 2015.

Getty Images
Related: The 2018 Golden Globes List of Director Nominees Includes Zero Women
"I Will Not Be Silent": Hollywood's Biggest Names Pledge to Speak Their Minds: