Joan Rivers Confidential: The Original Amy Schumer's New Book Is a Feast of Unheard Dirty Jokes and Personal Revelations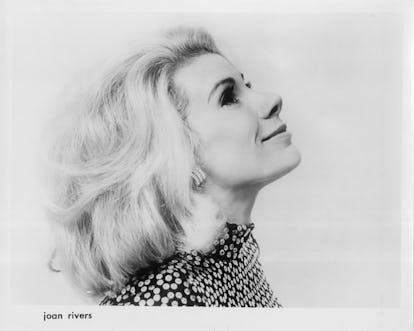 Courtesy Of The Estate Of Joan Rivers
When Joan Rivers died unexpectedly, in 2014, during a minor medical procedure, she left behind her daughter and Fashion Police lieutenant, Melissa; her beloved grandson, Cooper; a legendarily overdecorated apartment on New York's Upper East Side ("This is how Marie Antoinette would have lived if she had money," she once said); and a storage unit packed to the rafters with—as Melissa puts it—"boxes and boxes and boxes and boxes of all her stuff."
Indeed, over the course of her 81 years, Rivers had amassed a personal archive worthy of a head of state. Now, Melissa, with help from Scott Currie—a former producer of Rivers's daytime talk show—has brought together some of its highlights in the new book Joan Rivers Confidential, published tomorrow. Among the discoveries were reams of photographs—including a copy of the one of herself that Joan stole off the family piano when she was 8 and sent to MGM, in hopes of being "discovered." There were cards and letters from the likes of Ronald Reagan and Prince Charles, both of whom, oddly enough, were close friends, and 55 volumes of scrapbook news clippings dating back to 1959. Rivers had even kept unflattering reviews, which she often annotated in the margins with comments like "Not true!"
Most impressive, of course, were the jokes, thousands of them, typed on index cards and carefully filed by subject (two shown below, plus other mementos). There were 564 under the heading PARENTS HATED ME ("They used to give me advice like…'Ask the guy in the raincoat if he owns a van") and a whopping 850 under LIZ TAYLOR—the bulk of them about her bulk. ("They ask her, 'What would you like on your salad?' and she screams, 'A meatloaf.' ")
So what made Melissa want to put all of it out there? "Storage bills," she quips in the introduction, though as she recounts her mother's manifold accomplishments and presents evidence of her prolific brilliance—in the form of transcripts, meticulously worked-over monologues, glowing reviews, and all of those genius one-liners—we can't help but see that she's making a case for Rivers's legacy as an icon. And in that she succeeds. It's easy to forget, in this era of Amy Schumer and Sarah Silverman, how revolutionary it was for a meticulously coiffed, nice Jewish girl from Brooklyn—born in 1933!—to get up onstage and crack jokes about hookers, the Holocaust, and her vagina. What fun it is to be reminded.
The Most Stunning Mother-Daughter Duos, from Madonna and Lourdes to Cindy and Kaia
Actress Reese Witherspoon and daughter Ava Elizabeth Phillippe looked like twins with their tousled blonde waves at the Home Again Los Angeles premiere.

Getty.
At the 2015 InStyle Awards mother and daughter Lisa Bonet and Zoë Kravitz looked radiant with dewy, luminous skin, dark eyeshadow, and long messy hair.

Getty.
Cindy Crawford and Kaia Gerber have been the most dynamic mother-daughter duo at Fashion Week, proving that good genes run the family,

Getty.
At the 2011 Vanity Fair Oscar Party, Madonna and daughter Lourdes Leon wore their hair in sleek, straight styles.

Getty.
Actress Melanie Griffith and daughter Dakota Johnson attended the 87th Annual Academy Awards wearing similar up dos with messy bangs.

Getty.
French actress Vanessa Paradis and daughter Lily-Rose Depp arrived at a Chanel fashion show during Paris Fashion Week with their hair in effortless waves.

Getty.
Andie MacDowell and daughter Rainey Qualley prove that loose curls and luminous skin go hand in hand on the red carpet.

Getty.
Actress Demi Moore and daughters Tallulah, Rumer and Scout Willis all pose in backstage in support of Rumer's broadway debut in Chicago.

Getty.
At the Chanel Collection des Metiers d'Art in Paris, actress Jada Pinkett Smith and daughter Willow Smith both wore a playful pink lip.

Getty.
Actresses Goldie Hawn and Kate Hudson pose together on the red carpet at the 2014 Baby2Baby Gala.

Getty.
Meryl Streep's three daughters, Mamie, Grace and Louisa Gummer, all take after their mother when it comes to red carpet beauty.

Getty.
Actresses Blythe Danner and Gwyneth Paltrow were the ultimate mother-daughter duo at the 25th annual EMA Awards, both sporting radiant, sun-kissed skin.

Getty.
RETROspective: How the red carpet became the runway: