Selena Gomez Skipped Justin Bieber's Birthday Celebrations, But That Didn't Stop Him From "Hooting and Hollering" on a Go-Kart
Though she did post a tribute to her "super cool" beau on Instagram.
---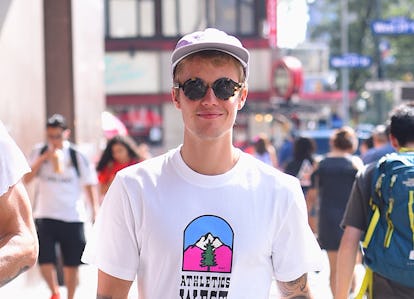 Photo by Robert Kamau/GC Images
It is with great sadness that I must admit that I was not invited to Justin Bieber's 24th birthday celebrations. Luckily, though, E! News found a trusty "eyewitness" who shared enough details about the goings-on for us all—Selena Gomez, who was remarkably absent, included—to feel as if we were there vicariously. That started with the "quick birthday lunch" Bieber had with friends in West Hollywood—until speeding off in what E! described as a "caravan" of limos to the MB2 Raceway outside of L.A., which Bieber rented out for an afternoon of go-kart racing.
"Justin couldn't wait to hit the race track and let his adrenaline junkie side come out right away. He was very into it and was going faster than anyone," an "eyewitness" told E! News. "He loved the challenge of racing his friends and he got very competitive about it. He was hooting and hollering having a great time."
Bieber's own Instagram may have gone without any updates, but the rest of his crew seemed happy to share some of the festivities. They included two pastors—Judah Smith and, of course, Bieber's BFF Carl Lentz—as well as his manager Scooter Braun, who posted a truly remarkable video of Bieber to his Instagram, and Bieber's former "swagger coach" Ryan Good. (In keeping with the good, clean fun, Good's current Instagram story proves that at least one of member of their party took care to wear a helmet.)
Related—All the Famous Women Justin Bieber Has Been Spotted With Over the Years:
To make things even purer, Bieber's mom Pattie Mallette, whom he greeted with a tight hug, was there waiting for them at the race track. "Everyone walked inside hugging with their arms around one another. It seemed like a very tight group that was happy to have an afternoon of fun together," E!'s eyewitness added. (It looks like Bieber is making some headway in getting his birthday wish from last year: "to be a better friend, better brother, better son and and better man.")
The presence of Mallette, who's been a vocal supporter of Bieber's current relationship, brings us back to Gomez's absence from the festivities (though they did go to church together the night before). But by the afternoon of his birthday, she made it clear she hadn't forgotten the special day: "March 1, 1994 someone I know that happens to be super cool was born," she captioned an Instagram, adding emphasis to her tribute by concluding it simply with the word"Boom." (People reports she also posted and quickly deleted a photo of balloons in the form of the numbers "24," as well as wall of Polaroid selfies of the pair.)
Gomez's deleted post and IRL absence from the celebrations, which concluded with a dinner back in Beverly Hills, may suggest something's amiss between the couple, but fret not: It was just over a week ago that Gomez tagged along to Jamaica for Bieber's father's wedding, where paparazzi did their duty of zooming in close enough to provide blurry proof that they spent a good part of the getaway holding each other tight.
Related: A Complete Recap of Justin Bieber's Utterly Fascinating—and Occasionally Terrible, Horrible, No Good, Very Bad—Year