Justin Bieber's Mom Defends Her Son After Some Not So Kind Words From Selena Gomez's Family
"I'm so proud of the amazing young man you are, and the young man you are becoming."
---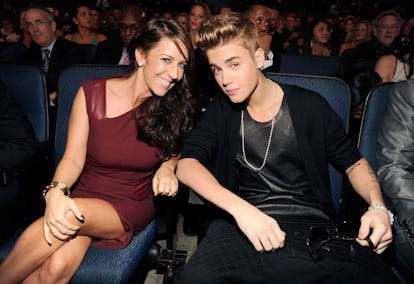 Kevin Mazur/WireImage/Getty Images
In case you missed it, the romance between Justin Bieber and Selena Gomez has essentially become a modern-day Romeo and Juliet forbidden love story. The current status is this: After dating on and off for the better part of a decade, House Bieber and House Gomez are at odds, with her family's apparent disapproval often making headlines. Now, Bieber's mom, Pattie Mallette, is getting in on the action and coming to her son's defense.
"I'm so proud of the amazing young man you are, and the young man you are becoming," she wrote in an Instagram post. "None of us are perfect and never will be, (so we will always need patience and grace for each other), but your genuine growing relationship with Jesus is evident in the choices you are making daily and the good 'fruit' you bear." Mallette, who has said she "loves" Gomez and has a "special bond" with the actress, continued to gush about her son. She said, "I admire your character and integrity. You are maturing beautifully and wise beyond your years. You are so funny that I find myself laughing out loud when I'm alone, remembering of something you said or did. And your heart is gold. I love you to the moon and back."
Recently Mandy Teefey, Gomez's mother, was reportedly hospitalized after a particularly stressful talk with her daughter about her beloved Biebs. Later, Teefey spoke to Gossip Cop about her relationship with her daughter and was very forthcoming with her opinions. Teefey admits she is "not happy" about the latest reunion between the pair, but also says "Selena can live her life however she wants as long as she is happy, safe and healthy."
Of course, neither Bieber or Gomez themselves have commented on the matter.
Related: Selena Gomez Opens Up About Justin Bieber With a Very Zen Answer