Behold: Justin Bieber's New Ponytail
See if you can tell him apart from his twin, Hailey Baldwin.
---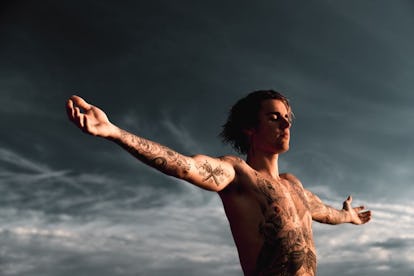 Courtesy of @justinbieber
As August comes to a close, it's now fair to say that the lob has unequivocally been the haircut of the summer. (Even seven-year-old Harper Beckham made like Mom and got one this weekend.) Despite the lob's omnipresence, though, barely any credit has been given to its surprising celebrity patient zero: Justin Bieber, who served up a casual reminder of influence over the weekend by stepping out in Beverly Hills with his fiancée, Hailey Baldwin, and taking his own lob to the next level: tying it back into a simple ponytail.
Bieber and Baldwin, who just dropped $5 million on a farmhouse in Canada, have made a surprising amount of hair-related headlines this summer. Back in July, Baldwin successfully coaxed Bieber into shaving off his mustache, and was also rumored to be the one to also convince him to get a bob earlier this month, judging by his recent declaration that he wants to grow his hair down to his toes. Their outing on Sunday, however, provided proof that Bieber in fact predated everyone from Kim Kardashian to Rihanna to Margot Robbie to Jessica Chastain in getting the haircut of the summer. (He just did so very quietly, thanks to an apparent lack of shampoo.)
Let's be honest: Bieber's hair was a mess before. Now that it's in a proper post-salon state, though, it can be fully be appreciated for what it truly is—something that even Baldwin aspires to. While they opted for quite different ensembles while out on their stroll—a bright blue Hawaiian shirt and a pair of checkered Vans slip-ons for Bieber; and an acid-washed Canadian tuxedo with a simple white tee for Baldwin—Bieber and Baldwin took the same approach to their beauty for the day, accessorizing with simple earrings and slicking back their blond lobs into a pair of petite ponytails-slash-buns.
You can see more photos of them twinning here—and no doubt plenty of places elsewhere soon, too. Given Bieber's track record, next season might just be all about petite ponies.
Related: Justin Bieber and Hailey Baldwin Just Dropped $5 Million on a Sprawling Farmhouse