Justin Theroux Slid Into the Queer Eye Guys' DMs and Now They're a "Wolf Pack"
They bonded by drawing vaginas.
---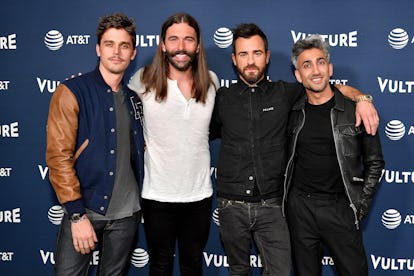 Dia Dipasupil/Getty Images
If you've ever wanted to hang out with the Queer Eye guys, apparently, all it takes is a slide in the DMs, a few slices of quiche, and you too can become one with "their little wolf pack." At least, if you're Justin Theroux. During his Monday appearance on Jimmy Kimmel Live!, the actor regaled the studio audience with the tale of his beautiful friendship with groomer Jonathan Van Ness ("Jonny"), fashion stylist Tan France ("Tanny"(!)), and food guy Antoni Porowski.
"I was a big fan of the first season and kind of binged it. And then, I did one of those things that I've never done before in my life where I was with some friends, it was Easter, and I was just like, I'm just gonna DM them because I saw in [Jonathan's] Stories that he was in New York. I was making a quiche. That's how we celebrate. And I sent him a little—I was like, hey, you probably won't get this, this is Justin, but I'm making a quiche this Easter and if you want to come by. I knew he was in Brooklyn or something because he was with Antoni, and he immediately hit me back, and he was like, 'Oh, my God, yes, I'm coming right away.' So, he came over. Antoni didn't come that time, but he came over. We had quiche. Now it's sort of become this thing whenever they're in town."
Theroux revealed that actually, being friends with the Fab Five isn't like a non-stop, celebrity-guest-starring episode of Queer Eye, quelle surprise.
"That was kind of the hope, that I'd kind of get these great tips and I'd have a makeover in my house. It's kind of the opposite. I'm usually the one doing the shopping. I'm like, 'Oh, my God, the guys are coming over.' Antoni made me nachos once and that was about the extent of it."
In fact, Theroux has apparently been appointed the group's de facto crop top-maker.
"One night we were hanging out, and we were about to go out, and then Jonathan realized he needed a crop top. He's like 'Oh, my God, I need a crop top.' It was during Pride Week. So I was like, 'Oh, my God!' I got a T-shirt and I cut off the sleeves. We wanted to do a crop top that has tassels, that's what he wanted, so I was like, 'Great. We'll cut the crop top and then I'll do the tassels. You just cut strips.' But it malfunctioned. We didn't have the beads at the bottom that weighed it down, so it just kind of looked like curly fries coming up. My best crop top."
In addition to offering his services as an off-brand Antoni/Tan hybrid, Theroux also revealed that his idea of bonding with the Fab Five is to make them draw vaginas.
"They all came over one night with a bunch of people, and then at a certain point, Jonathan and Tanny were talking about, like, sex and stuff. It became clear that they'd never seen—at least Tanny and Jonathan did not know what a vagina looked like. They had never seen a vagina, aside from maybe what you'd see in a textbook or something like that. So I thought that was kind of a teachable moment. I got very excited and I went upstairs and I got art supplies and I said, 'We're all going to draw vaginas.' I was dying to know what, in their brain, that looked like. We could all draw a penis. I said, 'I don't want to see what you're drawing. I just want to know from an anatomical perspective what you think this looks like.' And so they sat there and drew the vaginas and then they, to hilarious effect, held them up and showed me what they came up with."
The result? "Imagine the most rudimentary vagina," Theroux said, showing a photo of Van Ness proudly showing off his blurred-out masterpiece. "He even titled this drawing, and he wrote 'Le Vagine.'"
Related: Which Iteration of Justin Theroux Do You Most Identify With? Take a Deep Dive Into His Instagram to Find Out