Kacey Musgraves' Coat is Quite Green, Shockingly So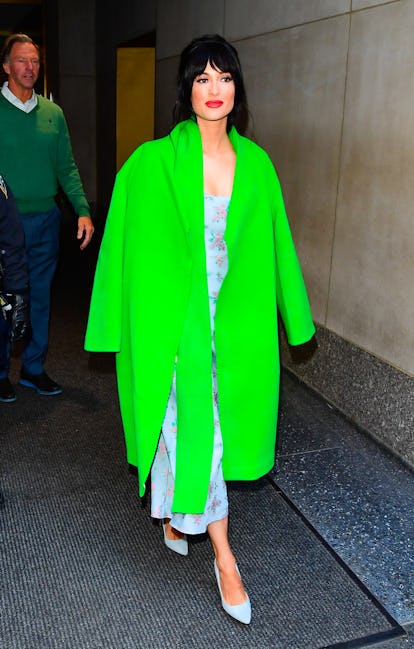 Raymond Hall/GC Images
Kacey Musgraves stopped by the Today show today to promote her upcoming Christmas special, The Kacey Musgraves Christmas Show, which hits Amazon Prime Video on November 29th. And on her way out, she was photographed in a major outfit: a pale blue floral-printed dress by Makarian with matching Jimmy Choo heels underneath a neon green coat by Dorothee Schumacher.
This coat puts Kermit to shame. It is the greenest green we have ever seen, a green greener than the sloping hills of Ireland or a cyberpunk digital rainfall of code. It is a green that stops you in your tracks, a green that blinds. The green of chroma key!
Musgraves looked like a walking green screen today. What could one project upon her? Willie Nelson smoking up? Palettes of glittery eye makeup? The hopes and dreams of the entire country music industrial complex?
The country star also hit The Tonight Show Starring Jimmy Fallon on Tuesday night, clad in a shimmering green suit from Christian Siriano. She debuted a new song on the show, a jingling holiday love song called "Glittery" (hence the outfit). And Musgraves told Fallon that since filming her Christmas variety special, fans can now refer to her as a triple threat. "I have to say, I've never done anything like this before," she said. "I'm a triple threat now, so just log that away."
"I have a lot of wonderful guests that come and join me," she said of the show. "It's kind of my take on, you know, kind of the old school Judy Garland-Christmas-Cher Show type of thing, just kind of brought to life in a modern way." The guest stars include the likes of Lana Del Rey, Kendall Jenner, Troye Sivan, Fred Armisen, and Schitt's Creek creator Dan Levy. Thanks, Jeff Bezos.