Kaia Gerber and Gucci's Severed Heads Were the Buzziest Fashion Week Moments on Instagram
Here are your winners—and losers—of fashion week, by the numbers.
---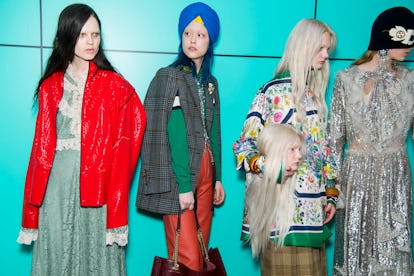 Fashion Week isn't officially a competition, but that doesn't stop Instagram from keeping score. So who were some of the winners of the Fall 2018 season? Kaia Gerber, Queen Elizabeth II, and Gucci's severed heads, apparently. That's according to the social platform's measure of "buzz" dictated by likes, views, follows, comments, and hashtags, as reported in Business of Fashion. Other notable standout moments included Christopher Bailey's final show for Burberry; Anok Yai, the first black model to open Prada in years; and Chanel, of course.
Instagram has become the social network of choice for the fashion world, thanks, obviously, to its image-focused nature, preponderance of influencers, and increasing e-commerce tie-ins. It's no surprise, then, that brands are increasingly trying to turn their shows into highly Instagrammable (if not intentionally meme-able, in some cases) moments to capture the public's attention. But not everyone's on board. Giorgio Armani notably shaded Gucci's heads this season by saying, "Fashion can't be a means to have the media talk about you. We have to move and excite but without going overboard—it's too easy." Though the biggest winners on the platform this season were major moments.
1. Kaia Gerber Beats the Hadids as Buzziest Model
Kaia Gerber may not have the oversize social following of girls like Bella and Gigi Hadid and Kylie Jenner (and, to be fair, she didn't start building her social following by appearing on family members' reality shows, either), but she does have buzz bigger than anyone in fashion right now. As Instagram confirmed last month, Gerber already had better fan engagement metrics on the platform than most superstar models, and now she's emerged from Fashion Week 2018 as the most buzzed-about model.
That's not a surprise, considering Gerber walked blue-chip shows during every single Fashion Week except for London. She popped up at Tom Ford, Marc Jacobs, Alexander Wang, Versace, Moschino, Saint Laurent, and Chanel, among many others. Notably, her first campaign for Chanel was also unveiled during Fashion Month.
Still, the Hadids continue to go strong. Gigi and Bella took second and third place, respectively. Karlie Kloss came in fourth even though she only walked in Brandon Maxwell's NYFW show. Here's the full top five:
Kaia Gerber
Gigi Hadid
Bella Hadid
Karlie Kloss
Fran Summers
2. Diversity Mattered for Breakout Models
The "buzziest" column includes some of the most followed models, but it doesn't give us an idea of who truly had a breakout season. For that we'll have to rely on Instagram's stats of which models grew their followers by the greatest percentage, and, unlike with "buzz," there's a whole lot more diversity to be found. It was Anok Yai, the Sudanese model who was scouted during Howard University's homecoming and became the first black model to open Prada in more than 20 years, who came out on top. Second and third on the list, Yasmin Wijnaldum and Adut Akech Bior, are also of African decent. That's promising, but the fashion world (and its fans on Instagram) shouldn't pat itself on the back until we see more model of colors in the buzziest category overall.
Anok Yai
Yasmin Wijnaldum
Adut Akech Bior
Léa Julian
Vittoria Ceretti
3. Gigi and Bella Still Had Their Moments
Gigi Hadid had the most liked photo posted by a model during the week.
Bella had the most liked video.
5. Victoria Beckham Reigns Supreme as Well
She had both the most liked photo and video posted by a designer.
6. The Queen (Almost) Won London
One of the biggest stories out of LFW was, no doubt, Queen Elizabeth II's decision to attend her first fashion show ever. She chose up-and-coming designer Richard Quinn, to whom she later presented an award. The QEII buzz alone put Quinn in second place, but it couldn't quite overcome the buzz generated by Christopher Bailey's final show for Burberry. Burberry, of course, is always a headliner during LFW, but Bailey's bye-bye, a rare catwalk appearance by Cara Delevingne, and the LGBT theme helped secure its top spot.
Here's the top five from London:
Burberry
Richard Quinn
Christopher Kane
Teatum Jones
Delpozo
7. Gucci Is a Head Above, but the Legacy Brands dominated New York, Paris, and Milan
Gucci, unsurprisingly, won Milan Fashion Week thanks to the severed heads and tiny dragons it sent down the runway. Then again, Gucci is always an Instagram hit even without an extra stunt. The rest of the top fives for Milan, New York, and Paris are populated by your regular players. So maybe it's more interesting to discuss who was left out. Balenciaga didn't make the cut in Paris (though it was the second most viewed show of the season on Vogue Runway). Nor was Dolce & Gabbana anywhere to be found, despite the drones and millennials.
New York
Tom Ford
Calvin Klein
Ralph Lauren
Michael Kors
Marc Jacobs
Milan
Gucci
Prada
Fendi
Versace
Moschino
Paris
Chanel
Dior
Louis Vuitton
Saint Laurent
Balmain
Related: Kaia Gerber Is Already Topping Kendall Jenner and the Hadids at Instagram by Engagement