Kanye West at 40: Celebrating One Man's Many, Many Lives On His Birthday
On his 40th birthday, 10 writers celebrate their favorite version of Kanye West.
---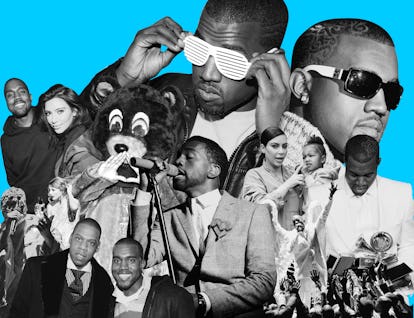 Have we ever had a pop star quite like Kanye West? One who is transparently narcissistic, yet who has made room for everything and everyone to be part of his vision? One who is as much an appropriation artist as he is a singular genius? One who has tried to be everywhere in the quest to be himself? The man might be a mess of contradictions and digressions and diversions, but he has been more earnest about and dedicated to evolving than any other artist we have. On his 40th birthday, 10 writers celebrate their favorite versions of Kanye.
"Only One" Kanye
Rae Witte: Easily a contender for one of Kanye's best non-album releases, "Only One" was released on New Year's Eve 2014. Initially, it was supposed to be on the album formerly known as Waves, formerly known as Swish, formerly known as So Help Me God, that actually ended up being what we now know as The Life of Pablo. And it didn't. The track came out just weeks before his debut Adidas collection at New York Fashion Week in February 2015—an interesting time in his life before West's fashion endeavors went into non-stop hype overdrive, before four more Yeezy collections, his children's and Calabasas collections, numerous sneaker drops, a huge album and wildly-attended tour. Plus, he had a son.
The video for the song, co-written by Paul McCartney, was world-premiered, amazingly, on The Ellen Degeneres Show on January 29, 2015, where we learned that it was essentially written to be sung by his mother, the late Donda West, to Kanye and his daughter North. (If you haven't melted into a puddle of feelings yet, there's more.) Directed by Spike Jonze, the intimate video was shot completely on an iPhone and features only Kanye and Nori. Full disclosure: I sobbed the first time I watched it, and wouldn't watch it again for months.
Kim would go on to call "Only One" her favorite Kanye song. He'd later use it in another tear-jerker video: his dedication to Kim for her 36th birthday in October 2016. Kanye also used it earlier in the year for the trailer for his still unreleased video game also titled "Only One," which follows his mother's journey to heaven. Each version is slightly different, but beautiful nonetheless.
On his 40th birthday, I want to celebrate "Only One" Kanye. Although I'm here for 2013's screaming-about-leather-jogging-pants Kanye, backpack-rap Kanye, and even haphazard-Twitter-rant Kanye, nothing feels more authentic and human than "Only One" Kanye. He used this song only three times, and each to celebrate the three most important women in his life: his mother, his wife, and his daughter.
"College Dropout" Kanye
Allyson Shiffman: Long before Amber Rose and Kim Kardashian, before Yeezys and public meltdowns, there was The College Dropout. You can't talk about Kanye West without talking about the debut LP that would instantly turn Jay Z's behind-the-scenes producer into a superstar. It's hard to imagine now, but back in the early 2000s, no one was keen on pushing Kanye into the spotlight (no one but Kanye, that is). Rappers were meant to be gangsters who spoke about drug dealing and violence; who wanted to listen to a middle-class guy mope about his feelings? As it turned out, everyone.
When College Dropout came out in 2004, I was a junior (in Canada we call it Grade 11) at a snooty private girls school. While my friends and I certainly enjoyed the rap then permeating the airwaves, we couldn't exactly relate to it. (You haven't truly suffered until you've seen a gym full of private school kids bump and grind to 50 Cent's "In Da Club.") Then came Kanye, a rapper whose first single, "Through the Wire," which even under the auspices of a hard tale of recovery from being shot still managed to reference GEICO and Vanilla Sky. The guy wore pastel polo shirts and bragged about using a seat belt. There was an emo school mascot on his album cover, for heaven's sake. By the time my brother took me to see him live at the Air Canada Center (where they had sectioned off half of the arena because Kanye wasn't big enough to perform to the full venue) I had already memorized all the words to "Slow Jamz." Of course, it wasn't as if Kanye was speaking just to white girls at Toronto private schools; his autobiographical "emotional rap" struck a universal chord. (The natural endpoint of College Dropout being, of course, Drake.) After all, we're all self-conscious, he was just the first to admit it.
The "Old Kanye"
Emilia Petrarca: I was 12 years old when College Dropout came out in 2004. It was my first real, thorough introduction to rap—post Kidz Bop and beyond the 50 Cent and Outkast on the radio—not to mention gospel and soul, too. It was confident, but also full of nervous energy; it was "for the kids," but also talked about drug dealing as way just to get by. I'd never heard an album before that said so much, and so unabashedly in a way that didn't feel forced. I didn't know that was allowed, and studying it over and over again from start to finish educated me to the potential of music, as well as of Kanye West. The skits made me laugh, the songs were relatable but also on another plane, and all-in-all, I wanted to know more about the scene described and the man who'd just burst onto it.
To this day, College Dropout is still one of my favorite Kanye albums, as well as one of my favorite Kanye phases. This is, of course, due mostly in part to nostalgia and the fact that you always remember your first—two forces beyond any artist's control. Which is why I don't necessarily see College Dropout as a "simpler" time in the arc of Kanye the person and artist. (Even then, he was rapping about being overlooked and overbooked.) Rather, it's a marker of how Kanye West's phases—the old Kanye and the new Kanye—become our own. And this is why they stuck. And in fact, I remember College Dropout got caught in the CD player of my family's car in 2004. No one was mad about it, nor eager to fix it—a true testament to the album's lasting greatness. We listened to it on repeat until we got a new car, and by then CDs weren't even really around to get stuck. Quite literally nothing could replace it.
"Jesus Walks" Kanye
Dan Duray: On Life of Pablo, Kanye famously lamented, "I miss the old Kanye, straight from the Go Kanye/Chop up the soul Kanye, set on his goals Kanye," and I like to think he was talking about "Jesus Walks" Kanye. That Kanye came of age in the early aughts, an era where people would declare—say, on the campus of a liberal arts college—that they "only listen to conscious rap." Whether or not it was a reaction to Tipper Gore and her ilk crying out that gangster rap was going to ruin society, conscious rap was embraced by the likes of Mos Def and Talib Kweli, who espoused a positivity that bordered on self-help. "Don't let nobody with the power to sign/ Ever tell you you ain't got the power to rhyme," Kanye West said in his verse on Kweli's "Get By." Kanye did not just flirt with this kind of message; he was a posterboy for it. He did a Def Poetry Jam slam version of "All Falls Down" ("She's so self-conscious/She has no idea what she doin' in college") that would be impressive even if Kanye did not turn out to be one of the most famous musicians of all time.
And there's "Jesus Walks." It begins, of course, with: "We at war. With terrorism. Racism. But most of all. We at war with ourselves." Today, you'd read that as the tortured reaction of a politically crestfallen artist. Back then, Kanye was preaching: "I walk through the valley of Chi where death is"; he sings to the "to the victims of welfare for we living in hell here." "Jesus Walks" is emblematic of this period, but it's also a turning point because you can already hear Kanye's frustration: "They said you can rap about anything except for Jesus/That means guns, sex, lies, video tape/But if I talk about god my record won't get played." His earnestness sounded so vulnerable then, and it has come to frame my view of his actions since: Pointing out that George W. Bush doesn't care about black people. Pointing out that Taylor Swift didn't deserve that VMA. Breaking paparazzi's cameras. His feelings do not come from a bad place in any of this, and it's not some kind of act. Kanye is still intensely frustrated with our fallen world. These days he just wears a little more armor.
Saint Pablo Kanye
David Turner: Kanye West's last fully public moment was last fall, on a floating platform during his Saint Pablo tour. A month before his rants about President Trump's election, I saw him back in his hometown of Chicago on the second night of a back-to-back. My friend's seats were in the pit, where all of the attention centered on Kanye. Yet, even with all of the attention beaming in his direction, there was a sense of community on the floor of that show. The crowd roamed the stadium grounds chasing after Kanye no matter where the elevated platform went. No matter if he was performing an older hit like "Stronger," which sounded even more in the future than it did 10 years ago, or the still chilling "New Slaves," there was rapturous joy with each new drop. After the near-spiritual "Ultralight Beam" capped off the evening, I picked up a dollar from the stadium floor. I threw it in my wallet, and have held it there since. The gesture felt a bit ridiculous, but after watching Kanye that evening it was hard not to want to be a little ridiculous.
Greatest Tweet of All Time Kanye
Lauren McCarthy: My favorite Kanye era did not last any measurable duration of time. It is just 30 simple, perfect words: "I hate when I'm on a flight and I wake up with a water bottle next to me like oh great now I gotta be responsible for this water bottle." Kanye tweeted this stream of consciousness on October 16, 2010 at 7:57 p.m., and by my estimation no Tweet before or after has ever lived up to it. Now, don't get me wrong. Kanye has always been something of a prophet when it comes to 140 characters. He has had extremely profound thoughts on romance ("Dating models I had to learn to like small dogs and cigarettes."), style ("Just looking at my closet, wool suits, fedoras, trenches and furs … I'm bout to put fall in the hospital … Ima hurt the season"; "I specifically ordered persian rugs with cherub imagery!!! What do I have to do to get a simple persian rug with cherub imagery uuuuugh."), music ("Classical music is tight yo"), fonts ("Sometimes I get emotional over fonts"), and the remainder of life's ennui ("I want to edit the film on a boat … where are the good editing boats?"). But for some reason, that water bottle tweet has always struck a chord with me. It may be because, when you break it down, this tweet has everything you want and, at this point, expect from Kanye without seeming dangerous. It's unfiltered, off-kilter, zigs when you think it will zag, and, honestly, really f—ing funny. It's unhinged, but in the best way. It's Kanye. I hope that in his 40th year, Kanye will return to the medium, because, truly, I miss this Kanye.
"Watch the Throne" Kanye
Fan Zhong: With a single line on 2011's Jay Z collab Watch the Throne, Kanye crystallized what we already knew—that he was an arriviste no more: "This is luxury rap/The Hermes of verses," he declares on "Otis," both inventing a subgenre and effectively reclassifying the rap throne as a tandem-seat, DIY Maybach: It was him and Jay Z, and then everyone else. There was something thrilling about this at the time. I remember watching and then re-watching, over and over, the "Otis" video (directed by Spike Jonze), and not just for its Otis Redding sample (still one of my favorite Kanye samples of all time, and that's saying a lot). There was Jay and Kanye taking a blowtorch and chainsaw to a Maybach; there was Aziz Ansari as the royal court jester; there was the white tee-and-blue-jeans uniform, which I adopted as my own for too long; there was the American flag looming in the backdrop, which predicted hip-hop's dominance of pop culture in America.
The entire affair, from "N—– in Paris" on down, is a whole lot of flexing. There are references to Dries Van Noten, Larry Gagosian, MoMA, Rothko—still uncharted territory for rap in 2011. Riccardo Tisci even designed the album cover. And it also marked an implicit changing of the guard: By then, Jay Z was more businessman than artist—sorry, "business, man"—and Kanye was entering his artistic prime on the heels of his 2010 masterpiece My Beautiful Dark Twisted Fantasy (musically speaking, my actual favorite Kanye album). There was something visceral about an icon making way for an iconoclast in so material and manifest a manner. It was like watching Jay hand the mic over in person. I'm not sure that Kanye, even when he was floating above the crowd like a god on the Saint Pablo tour, has ever been higher.
Martin Margiela x Kanye
Stephanie Eckardt: Through shouting out the legendary, mysterious Parisian label in songs like "N—– in Paris" and attempting to channel it through his own Yeezy line, Kanye has worked hard to tie his brand and aesthetic with that of Maison Martin Margiela—to the point that there's even a Reddit forum on how to recreate "the Yeezus mask," which is actually one of the jewel-adorned, face-obscuring Margiela veils West took to wearing on his Yeezus tour in 2013. (The DIY answer: "Just bedazzle a ski mask bruh.") It's this type of pure, childlike fanaticism—who wears a mask they can't see in, much less perform in?—that I've always appreciated in Kanye. So let's forget, for today, Kanye stomping on his own public image after the election, and celebrate Sunday, November 20, 2016, when, just hours before he announced the cancellation of the remainder of his Saint Pablo tour, he posted without interruption 99 grainy photos of look books from the Margiela archives, from when Margiela himself, who is as opaque as Kanye is transparent, was still at the helm of the brand. Although Kanye just deleted his Instagram, I can still remember those hours when Kanye turned into a spambot as the very best of him: Kanye, at his heart, is just a fanboy.
"808s" & Kanye
Kyle Munzenrieder: 808s & Heartbreak was greeted by the public as a weird diversion in the career path they had predicted for Kanye. Some almost treated it as a concept project that he hadn't bothered to come up with a new artist name for. What to make of this oddity stuffed with auto-tune, Daft Punk samples, personal laments, and, at times, almost electro post-punk elements?
Coming off the College trilogy, Kanye was at the time king of the backpack rappers, known for his baggy, preppy aesthetic and musical production that often relied on old soul samples. In some circles he was still viewed as a hungry up-and-comer, an outsider to mainstream rap even, who was still trying to prove himself. Never mind that each of his first three albums were nominated for Album of the Year Grammys. In the midst of personal crisis—he had recently lost his mother Donda, and ended his engagement to long-term girlfriend Alexis Phifer, the last major relationship he would be allowed to carry on outside of the harsh glare of the tabloid spotlight—Kanye decided he had proven himself quite enough, thank you very much, and reinvented himself almost completely.
In retrospect, the 808s era can be viewed as one of the most pivotal in Kanye's career. Gone were the soulful beats, replaced instead by hard, dark electro. So long to the college-kid prep, and hello to fashion-forward suiting. No longer would he be playing catch up, he'd be shaping the conversation (you're welcome, Drake). It also marked a pivotal time in Kanye's persona. This was the era of Amber Rose, South Park's infamous "gay fish" joke, and, by the tail end of it, The First Taylor Swift Incident. It was West at his most audacious, for better or worse, and the era in which he became the Kanye we all know today.
Art Nerd Kanye
Inside the Unveiling of Kanye West's "Famous" Sculpture At Blum & Poe Gallery in Los Angeles
Installation view of Kanye West's "Famous" sculpture, at Blum & Poe gallery in Los Angeles.

Photo by Ron Ben. Photo Editor: Biel Parklee.
The crowd at the private viewing on Friday night.

Photo by Ron Ben. Photo Editor: Biel Parklee.
Photo by Ron Ben. Photo Editor: Biel Parklee.
Photo by Ron Ben. Photo Editor: Biel Parklee.
Photo by Ron Ben. Photo Editor: Biel Parklee.
Photo by Ron Ben. Photo Editor: Biel Parklee.
Photo by Ron Ben. Photo Editor: Biel Parklee.
Photo by Ron Ben. Photo Editor: Biel Parklee.
Photo by Ron Ben. Photo Editor: Biel Parklee.
Kendall Jenner talking to Kanye West, via a LCD display.

Photo by Ron Ben. Photo Editor: Biel Parklee.
Photo by Ron Ben. Photo Editor: Biel Parklee.
Photo by Ron Ben. Photo Editor: Biel Parklee.
Photo by Ron Ben. Photo Editor: Biel Parklee.
Photo by Ron Ben. Photo Editor: Biel Parklee.
Photo by Ron Ben. Photo Editor: Biel Parklee.
Photo by Ron Ben. Photo Editor: Biel Parklee.
Kim Kardashian West and Kanye, overlooking "Famous."

Photo by Ron Ben. Photo Editor: Biel Parklee.
Photo by Ron Ben. Photo Editor: Biel Parklee.
Photo by Ron Ben. Photo Editor: Biel Parklee.
Photo by Ron Ben. Photo Editor: Biel Parklee.
Photo by Ron Ben. Photo Editor: Biel Parklee.
Janelle Zara: If industries are high school cafeterias, Kanye was the first rap kid of his generation to ask for a place at the art nerds' table. In the pursuit of fitting in, he's allied himself with artists (George Condo, Vanessa Beecroft, and Steve McQueen among them); showed up at a Design Miami here and there; sought the high-end council of major architects and designers; and stumbled nervously over his words speaking in front of a few dozen collectors at LACMA—an audience maybe one percent the size of Madison Square Garden.
Yet the art nerds' response has been a resounding "You can't sit with us." They largely ignored Kanye's foray into the gallery when he exhibited his "Famous" sculpture at Blum & Poe last year, privately brushing it off as the work of Madame Tussauds, or a breach of the purported sanctity of the gallery space. But I see Kanye as an artist, wholeheartedly—one of great sensitivity, of neurotic perfectionism, and relentlessly experimental vision. Yes, he did go to art school, but a major source of Kanye's inspiration, the filmmaker Alejandro Jodorowsky, recently gave me a better definition of what makes an artist: there is art in everything he does. And in Kanye's case, so much of that has never been done before: The total instrumentalization of the human voice. The MSG-shattering presentation of Yeezy Season 3. The stark minimalism of "Yeezus" and the psycho-magic drama of the accompanying tour. And to Teyana Taylor's late-coming mainstream fan base: You're welcome.
Kanye seeks art. He seeks other artists. That Murakami-designed album cover for Graduation? Happened 10 years ago, fam. It predates any video references to James Turrell, Basquiat, or Marina Abramovic (although we could've done without the latter). I think deep inside—underneath the pink polos, the Alexander Wang, and the brief lapse into peroxide blonde—Kanye has been an art nerd all along. He just helped make it cool to be one.
Kanye West's Style Evolution, from Sneakers and Sunglasses to Tuxedos and Yeezy
The rapper wore a pink argyle sweater and gold jewelry at the 2004 European Music Awards.

Getty
In 2004, Kanye West attended the Billboard Music Awards wearing a patterned sweater, red bomber jacket, and aviator sunglasses.

Getty
Kanye West continued his love of prep in 2004, wearing a light brown suit over a pink sweater.

Getty
In 2006, West looked cool and casual at the 2006 MTV European Music Awards in a grey zip up and grey sneakers.

Getty
In 2007, West channeled nerd chic on the red carpet, wearing a bomber jacket and crew neck sweater to the In Touch 5th Anniversary Party.

Getty
At the Los Angeles premiere of "Smokin' Aces" in 2007, the rapper once again hit the red carpet wearing sunglasses.

Getty
Kanye West has never been afraid to experiment with his style. At the 2008 American Music Award, the rapper went retro in a bright bomber jacket, printed hat, and jeans.

Getty
In 2008, Kanye West attended the 'Pineapple Express' premiere in Los Angeles sporting a bright blue jacket and his go-tos: sneakers and shades.

Getty
At the amfAR's Inaugural Milan Fashion Week event in 2009, West wore a sleek, all black ensemble, which coordinated with his then girlfriend Amber Rose.

Getty
At the 14th Annual ACE Awards in 2010, West traded in his sneakers for a classic tux.

Getty
In 2011, Kanye West posed with Carine Roitfeld at amfAR's Cinema Against AIDS Gala during the 64th Annual Cannes Film Festival in a sharp tuxedo.

Getty
Kanye West looked classic in camel-colored coach at the Maison Martin Margiela with H&M global launch event in New York City in 2012.

Getty
At the 2013 Met Gala, Kanye West looked classic, while Kim Kardashian, then pregnant with North West, wore a loud, Givenchy look.

Getty
In 2014, Kim Kardashian and Kanye West both took a more elegant route, wearing coordinating Lanvin.

Getty
Kanye mastered casual formalwear at the LACMA Art + Film Gala, wearing a white shirt, jacket, and leather pants.

Getty
In 2015, Kanye West ditched the tuxedo for a casual grey sweatsuit and his own Yeezy sneakers at the MTV Video Music Awards.

Getty
Kanye West dressed down for a casual outing with his very fashionable daugther North West in 2015.

Getty
In 2016, Kanye West wore an all-white ensemble to the 2016 MTV Video Music Awards in New York City.

Getty
At the 2016 Met Gala, Kim and Kanye took the futuristic theme seriously in custom, coordinating Balmain ensembles.

Getty
In 2016, Kanye and Kim attended the Balmain afterparty at Paris Fashion Week. For the occasion, West wore a patchwork jacket and Kardashian donned a shimmering Balmain dress.

Getty
Watch Kanye West's W screen test: