Kanye West's Story About North West Using Him as Her Assistant Designer to Make a Bubble Wrap Dress Is Incredible
"I'm like, 'Damn, you worse than the Internet, North.'"
---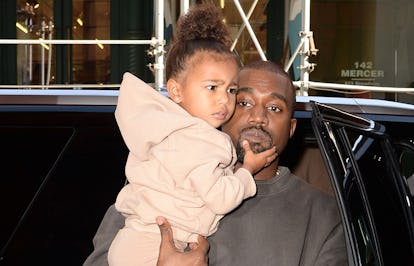 Raymond Hall/GC Images
There's one boss in the Kardashian-West household and it's not Kanye West. Despite his "dragon energy," the father of three and rapper actually does answer to someone else: his 5-year-old daughter, North West. The pint-size fashionista has been quietly shaping the fashion industry in between attending school and summer camp—for what else but fashion design. She recently inspired her father to create a pair of glow-in-the-dark Yeezy sneakers and, as it turns out, that's not the only design-related orders she gives him.
In a new interview with Chicago's Power 92, West revealed that he's often at the mercy of his oldest child's design whims. "There's times when North will want to design a bubble wrap dress in the morning, and I become her assistant designer for 20 minutes," he recalled with a smile. "She be screaming at me, 'You didn't hold the plastic right, you never gonna sell no clothes like this.' It's a 5-year-old talking about I'm never going to sell no clothes, saying I'm not a good designer. I'm like, 'Damn, you worse than the Internet, North. C'mon now. Somebody gonna buy these brown sweatshirts.'"
Yes, the man who made a song called "I Am a God" answers to a higher power. For West, though, the experience is a necessary and humbling one. "I can be the boss talking these Trump-level vogue quotes to my team and stuff, but [having kids] humbles you because I work for my daughter," he said. "I work for my kids. I can't talk them out of the way they feel, because they haven't been programmed yet to know what's right. They just know what they feel." He echoed that sentiment, adding, "I love that you see this reflection of yourself in your kids. I will say, I'll never trust anybody that's really rich and got no kids. Because they could be so extremely selfish. It's really just about them."
West is willing to soak up the spotlight on his own, of course, like when he announced back in 2015 at the VMAs that he would be running for president in 2020. He later clarified on Twitter, cryptically tweeting, "2024." Today, he elaborated on his plans saying, "Yes, 100 percent can happen. 2024. If I decide to do it, it will be done. I'm not gonna try." The name of his party? "The Birthday Party." No doubt when that time comes, North West will make sure Kanye is appropriately dressed for it.