We Have North West to Thank for the New Glow-in-the-Dark Yeezy Boosts
The 5-year-old simply wasn't having it with her dad's "butter"-colored slides.
---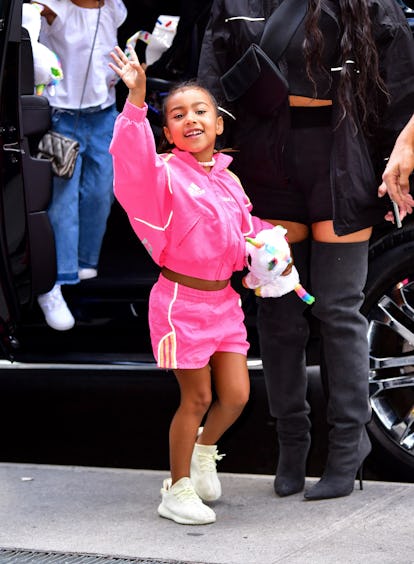 James Devaney/Getty Images
Kanye West has been back to tweeting up a storm as of late, though nowhere near as controversially as he was earlier this year, having pivoted from missives widely decried by pretty much everyone except for Donald and Ivanka Trump to simply sharing his appreciation for the painter Kerry James Marshall. His family is no doubt grateful for the shift, which even his 5-year-old daughter, North West, is already benefiting from, as Kim Kardashian West tweeted on Wednesday morning, following her husband's tweets surrounding one of his much more kosher topics of choice: his designs for Yeezy, which, he announced on Tuesday, will soon include a line of Yeezy 350s that glow in the dark.
As it turns out, that wasn't an idea of his own, but more like North's dream come true—or dreams, if you count the opportunity to take adults to task along with being promised her sneakers of choice. Apparently, they came to fruition when Kardashian West was "bribing" North to wear her "butter"-colored 350s by telling her they glowed in the dark—at which point North called her mom on her bluff and made her turn the lights off to prove it. Luckily, West turned out to be on speakerphone when the two were plunged into darkness, and as an apology for Mom's lies, he decided to take North's complaints seriously, apparently comforting her by saying, "Don't worry, I'll make them."
West may want to consider adding North, who has appeared in a Fendi campaign, gone to fashion design camp, and solidified her status as a burgeoning style icon, all just this summer, to his advisory board. Hypebeast, for one, immediately shared news of the glowing Yeezys on Tuesday, touting them as "shining new light on new Yeezy Boosts"—a design that found immense popularity when it launched nine years ago, in large part because that popularity made pairs so difficult to track down, but which have since become much easier to come by. That, of course, means a new business strategy is in order—especially if West is going to continue standing by his new habit of wearing suits with socks and too-small sandals, which, also on Tuesday, he defended as simply being the "Japanese way."
Related: Kanye West Once Made Kim Kardashian Cry By Throwing Out 250 Pairs of Her Shoes
North West Has Officially Been Chicer Than You for Five Years
North West, the day before her fifth birthday, and Kim Kardashian in New York City, June 2018.

Getty Images
North West in Wyoming, May 2018.

Courtesy of @kimkardashian
North West at Universal Studios Hollywood, May 2017.

Courtesy of @kimkardashian
North West wearing a $240 silk jacket, the most expensive item from Kim Kardashian and Kanye West's clothing line, May 2017.

Courtesy of @kimkardashian
Kim Kardashian, North West, Saint West, and Kanye West celebrating Easter, April 2017.

Courtesy of @kimkardashian
Saint West, Kim Kardashian, and North West in New York City, February 2017.

Getty Images
North West and Kim Kardashian in Miami Beach, September 2016.

Courtesy of @kimkardashian
Kim Kardashian and North West in New York City, September 2016.

Getty Images
Kim Kardashian and North West in New York City, September 2016.

Getty Images
North West and Kim Kardashian in New York City, August 2016.

Getty Images
North West and Kanye West in New York City, June 2016.

Getty Images
Kim Kardashian and North West in Los Angeles, June 2016.

Getty Images
Kim Kardashian and North West in Miami Beach, April 2016.

Getty Images
Kim Kardashian and North West in New York City, February 2016.

Getty Images
Kim Kardashian and North West at the Yeezy Season 3 show in New York City, February 2016.

Getty Images
Kanye West and North West in Los Angeles, November 2015.

Getty Images
North West's shoe spotted in New York City, September 2015.

Getty Images
North West and Kim Kardashian in New York City, September 2015.

Getty Images
North West and Kendall Jenner at the Yeezy Season 2 show in New York, September 2015.

Getty Images
North West and Kim Kardashian in Los Angeles, May 2015.

Getty Images
North West in New York City, February 2015.

Getty Images
Kim Kardashian and North West at the fall 2015 Alexander Wang show in New York City, February 2015.

Getty Images
Kim Kardashian and North West in Los Angeles, September 2014.

Getty Images
Kim Kardashian and North West backstage at the spring 2015 Givenchy show in Paris, September 2014.

Pascal Le Segretain/Getty Images