North West Went to Fashion Design Summer Camp
Following in dad's footsteps.
---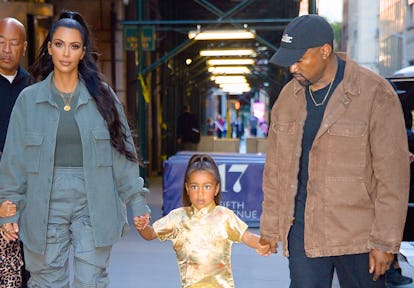 Photo by Robert Kamau/GC Images
When most of us went to summer camp, we roasted marshmallows and tied friendship bracelets and sang Simon and Garfunkel songs off-key. But that's just not good enough for certain celebrity offspring! No, children of the A-list wear designer threads and go to designer camps, literally. TMZ reports that North West, daughter of Kim Kardashian and Kanye West, has been attending "design camp with a friend," where they learned, just guessing here, how to make patterns with crayons? The proud parents attended her fashion show on Friday, the culmination of all the kids have learned.
In the pictures, North is wearing a patterned dress and bright, tufted vest, though it's unclear how much of that outfit is her original work and how much she just picked out herself. It's true that the girl has style. Per the article, "Kourtney also came to the show with her kids Mason and Penelope…. Kim and Kanye took the whole crew out to eat at Carasoul after to celebrate." Gonna go ahead and assume that's a misspelling of "Carousel," since multiple Google searches failed to find an eatery by that name. But hey, if you've been to the place, let me know!
It's not surprising that North would be interested in fashion. Her mom's family have all been fashion influencers since long before the term was applied to every Instagrammer with a six-pack. Mom Kim launched and then killed the body-con dress craze of the early aughts, auntie Kendall is a runway star, and uncle Rob started his own sock line. And then of course there's North's dad Kanye, who's branched out from music into fashion over the past few years with his Yeezy line. The shoes remain popular, while the clothing has been met with mixed reactions. Maybe North can give him a few pointers from what she's learned at camp?
Related: Fendi's New, Family-Focused Campaign Stars Kim Kardashian, North West, and Kris Jenner
North West Has Officially Been Chicer Than You for Five Years
North West, the day before her fifth birthday, and Kim Kardashian in New York City, June 2018.

Getty Images
North West in Wyoming, May 2018.

Courtesy of @kimkardashian
North West at Universal Studios Hollywood, May 2017.

Courtesy of @kimkardashian
North West wearing a $240 silk jacket, the most expensive item from Kim Kardashian and Kanye West's clothing line, May 2017.

Courtesy of @kimkardashian
Kim Kardashian, North West, Saint West, and Kanye West celebrating Easter, April 2017.

Courtesy of @kimkardashian
Saint West, Kim Kardashian, and North West in New York City, February 2017.

Getty Images
North West and Kim Kardashian in Miami Beach, September 2016.

Courtesy of @kimkardashian
Kim Kardashian and North West in New York City, September 2016.

Getty Images
Kim Kardashian and North West in New York City, September 2016.

Getty Images
North West and Kim Kardashian in New York City, August 2016.

Getty Images
North West and Kanye West in New York City, June 2016.

Getty Images
Kim Kardashian and North West in Los Angeles, June 2016.

Getty Images
Kim Kardashian and North West in Miami Beach, April 2016.

Getty Images
Kim Kardashian and North West in New York City, February 2016.

Getty Images
Kim Kardashian and North West at the Yeezy Season 3 show in New York City, February 2016.

Getty Images
Kanye West and North West in Los Angeles, November 2015.

Getty Images
North West's shoe spotted in New York City, September 2015.

Getty Images
North West and Kim Kardashian in New York City, September 2015.

Getty Images
North West and Kendall Jenner at the Yeezy Season 2 show in New York, September 2015.

Getty Images
North West and Kim Kardashian in Los Angeles, May 2015.

Getty Images
North West in New York City, February 2015.

Getty Images
Kim Kardashian and North West at the fall 2015 Alexander Wang show in New York City, February 2015.

Getty Images
Kim Kardashian and North West in Los Angeles, September 2014.

Getty Images
Kim Kardashian and North West backstage at the spring 2015 Givenchy show in Paris, September 2014.

Pascal Le Segretain/Getty Images