Karl Lagerfeld Opens Up About Former Boyfriend Jacques de Bascher
"I infinitely loved that boy but I had no physical contact with him," he says in a new book about de Bascher.
---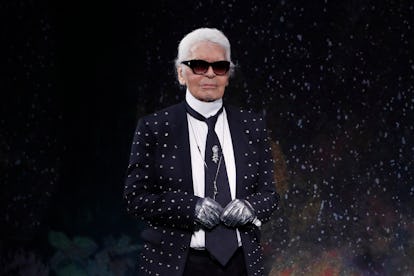 PATRICK KOVARIK/Getty Images
Karl Lagerfeld is perhaps better known for his underhanded barbs than for his earnest confesssions—this is, after all, a man who once called Meryl Streep "a genius actress, but cheapness also, no?"
But when it comes to his one-time boyfriend of 18 years Jacques de Bascher, Lagerfeld is more forthcoming: For a new book on the late de Bascher, Lagerfeld sat down with French journalist Marie Ottavi for two separate, candid conversations about their decades-spanning relationship. Lagerfeld is one of many among de Bascher's circle who Ottavi consulted while writing Jacques de Bascher, dandy de l'ombre—she also spoke with Kenzo Takada, Betty Catroux, Pat Cleveland, and more.
But it's Lagerfeld who, apparently, offered some of the choicest revelations: For example, he told Ottavi that, over the course of their nearly two-decades-long relationship, he and de Bascher never consummated their relationship. "I infinitely loved that boy but I had no physical contact with him. Of course, I was seduced by his physical charm," he said of de Bascher, according to WWD, who previewed the book. De Bascher, for his part, was renowned for his promiscuity, partying, and organizing of orgies and an infamous, S&M-themed party, the "Moratoire Noir(e)"—which Lagerfeld funded.
"I'm a total puritan, but I found Jacques's adventures amusing," Lagerfeld tells Ottavi. "We couldn't be further apart. I am a Calvinist toward myself, and totally indulgent toward others."
Lagerfeld and de Bascher's turbulent relationship included de Bascher's affair with Yves Saint Laurent—an affair that also drove a wedge between Lagerfeld and Saint Laurent's longtime romantic and business partner Pierre Bergé, who alleged that Lagerfeld "engineered" the affair to bring down the house of Saint Laurent (according to Lagerfeld, anyway). Lagerfeld stayed by his boyfriend's side when he contracted HIV, literally setting up a cot in his hospital room, till his death, from complications of the AIDS, in 1989.
Though Lagerfeld "has always refused to attend funerals," according to WWD, he was also responsible for the mass for de Bascher after his death.
The saga of de Bascher, Lagerfeld, and Saint Laurent was previously recounted in Alicia Drake's 2006 book The Beautiful Fall (a book for which Lagerfeld took Drake to court, "requesting damages for intrusion into his private life," the New York Times wrote at the time), and he was portrayed by French actor Louis Garrel in the 2014 movie Saint Laurent. He wasn't particularly well-known outside his fashion milieu until the publication of The Beautiful Fall, according to WWD, but he was notorious among the fashion set; his Wikipedia page now describes him as a member of "la jet set française" and you'd be hard-pressed to find mention of him that doesn't also include the word "dandy." He may have lived several generations after Oscar Wilde, but he also pre-dated contemporary Instagram stars, among whom he might have thrived.
"If he were alive today, maybe he would be an influencer," Ottavi told WWD.
Katy Perry admits she has cried to some of her own songs: