Everything Karlie Kloss and Joshua Kushner Have Shared About Their Low-Key Wedding
They made their dispatches while en route to their 48-hour "mini-moon."
---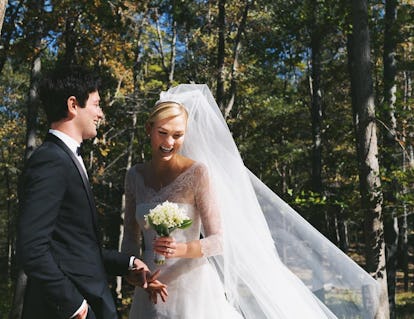 Courtesy of @karliekloss
It's been just more than four days since Karlie Kloss and Joshua Kushner shared that they had a surprise, predictably low-key wedding in upstate New York. Since then, the couple has kept with their newfound habit of (slowly) opening up by sharing a bit more insight into their Thursday nuptials—though it also seems like they've moved on to the honeymoon stage.
As she shared on her Instagram Stories mid-boarding a private jet and shouting out "where's my husband?" on Sunday, Kloss has christened the latter as their "mini-moon," seeing as it'll only last a whirlwind 48 hours. (Things move fast when you're a supermodel-slash-coding extraordinaire and a venture capitalist whose family is constantly in the news cycle; it was only at 2 a.m. that Kloss apparently finally had a chance to get a bite of their Milk Bar wedding cake, one she took while sitting on the ground in her custom Dior wedding gown.)
Back on her Instagram Stories, Kloss shared a view from the window of their jet showing an island in a sea of unreal cerulean blue. Kushner, for his part, also got back to work on opening up to his growing following (though his current count of 100,000 definitely still pales in comparison to Kloss's nearly eight million). Also on Sunday, perhaps while Kloss was taking in the views on the jet, he shared a rare new glimpse at their ceremony. Rather than posing for another incredible PDA shot taken by the artist JR, as they did shortly after sharing the news of their engagement this summer, this time he opted for a photo of Kloss in her wedding regalia, holding a bouquet and posing for a photo he was taking with an actual camera—hinting that the wedding was definitely more photographed than the couple has so far let on to the public. ​As for the caption, he kept it simple: "i married my best friend ❤️."
It didn't take long for the post's comments section to be flooded with emoji-filled expressions of love from a wide bunch including Jessica Alba, Wendi Murdoch, Sophia Bush, Gisele Bündchen, the artist Alex Israel, and the photographers Inez & Vinoodh. Ashton Kutcher also followed up on Ivanka Trump's post-engagement move calling Kloss her "sister" by commenting simply, "Love you brother." (He and his wife Mila Kunis are all apparently investors in the same coconut-oil-based beauty brand.)
Despite her excited earlier comments and the fact that she follows Kushner—he's the brother of her husband Jared Kushner, aka the president's senior adviser whose politics Kloss has made clear she and her husband do not agree with—Ivanka Trump has notably abstained from commenting so far. (Kloss still has yet to follow Trump back on Instagram.) Both Trump and Kutcher were, however, among those who attended the low-key wedding.
As for the rest of the similarly low-key wedding guest list, both of the couple's parents and siblings, as well as Kloss's fellow Midwesterner Derek Blasberg, were reportedly among the 80 in attendance. They reportedly plan to host a larger celebration in the spring—one which, if at the very least to keep the rumors at bay, Taylor Swift will hopefully be able to attend.
Related: This Is Likely Why Taylor Swift Wasn't at Karlie Kloss's Wedding