Kate Hudson, No Longer Bald, Debuts Textured Ombré Pixie Cut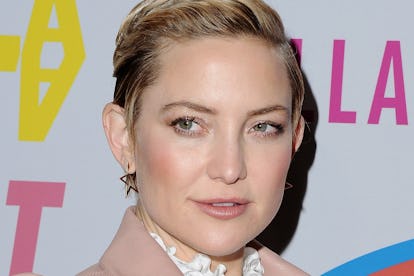 Jon Kopaloff/FilmMagic/Getty Images
Kate Hudson shaved her head for a movie role back in July 2017 and has been delighting in her G.I. Jane–style buzzcut ever since. Of course, what gets buzzed off must grow back again, and that mid-growth stage may be awkward, but like Cara Delevingne (who also shaved her head for a role) before her, Hudson is finding ways to have fun with it.
Hair stylist Riawna Capri posted a close-up picture of a beautiful, textured styling trick that bypasses any short length awkwardness. The actress's hair is styled in a gelled, piece-y wave texture with a matching layered cut and subtle ombre color that helped lighter pieces stick out. Hudson debuted the look alongside mom Goldie Hawn at the Stella McCartney pre-fall 2018 collection show on Tuesday night.
It's nice to see that Hudson isn't mourning her bleach-blonde beach waves and is having fun with her new length — or lack thereof. She previously posted a tongue in cheek lookalike photo of herself and vintage Leonardo DiCaprio, with matching spiky brown hair, asking "Who wore it better?" The actress also got in on the Google Arts & Culture app pandemonium, to which her matching art doppelgänger was "Portrait of a Boy."
Related: Cara Delevingne Debuts Pink Hair in Her Never Ending Quest to Have All Hairstyles
Cara Delevingne, Kate Hudson, Angelina Jolie and More Actresses Who Have Cut Their Hair for Hollywood
To play the '70s and '80s supermodel Gia Carangi in the HBO TV film Gia, actress Angelina Jolie cut her dark hair into a shorter style.

Photo by Getty.
After shaving her hair for her role in V for Vendetta, actress Natalie Portman paired her buzz cut with taupe smoky eye and a nude lip on the red carpet.

Photo by Getty.
Anne Hathaway chopped off her long, brunette hair for her role in the musical Les Misérables, and won an Oscar.

Photo by Getty.
Actress Tilda Swinton went completely bald for her role in Doctor Strange, but let her hair grow back in stages.

Photo by Getty.
Attending theComic-Con International 2013, actress Karen Gillian debuts her buzzed cut that shaved her head for her role in Guardians of The Galaxy.

Photo by Getty.
South African beauty Charlize Theron went short for her role in the film Mad Max: Fury Road.

Photo by Getty.
Model and actress Cara Delevingne debuted her newly shaved head as she prepares for her role in her upcoming film Life in a Year.

Photo by Splash News
Kate Hudson gets into character for her role in her new film with singer Sia, debuting her recently shaved head.

Photo by Backgrid.