A Kate Moss Lookalike Walked the Vetements Runway
Demna Gvasalia might be in Vetements's past, but trolling most definitely is not.
---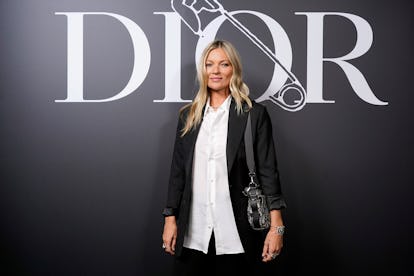 On Thursday afternoon in Paris, Kate Moss sat front row with Cara Delevingne and her daughter, Lila Moss. Meanwhile, across town, another Kate Moss—or so it seemed—paraded down the Vetements runway, wearing a riff on the supermodel's signature slip dress. Convenient as it would be for a supermodel to exist in two places at once, that was not in fact the case. Upon closer inspection, Vetements had found itself a Kate Moss lookalike, by the name of Denise Ohnona.
Before its fall/winter 2021 show on Thursday, it was nearly impossible to imagine what the once buzzy French label would look like without Demna Gvasalia. (The label's longtime figurehead stepped down last year, and now focuses solely on his role at Balenciaga.) As it turns out, the newly anonymous collective doesn't need a megawatt mascot to make a splash—nor does it even need supermodels or celebrities. Instead, it simply invented the concept of supermodel knockoffs.
"Naomi Campbell," "Mike Tyson," "Angelina Jolie," and "Snoop Dogg" rounded out the rest of the cast. But as is so often the case with the real Moss, "Moss" was the one who stole the show. (To be fair, they all were certainly more believable than the "Naomi" at spring 2018 London Fashion Week who was made out of cardboard.)
Like Kate Moss, Fake Moss—otherwise known as Denise Ohnona—is a professional. And like Moss, who was scouted at JFK airport, Ohnona happened upon her career by chance. An assistant to Alison Jackson, an artist who photographs celebrity döppelgangers, discovered her on Instagram. At Jackson's behest, Ohnona participated in a flash mob with Prince Harry and Meghan Markle lookalikes. "I did the event and met some other lookalikes and thought 'I can do this,'" Ohnona, 39, told the Liverpool Echo last year.
Along with its fall/winter 2021 collection, Vetements also debuted a new batch of cheeky slogans. Naturally, they used those as an opportunity to troll, too; among them are "never fake it" and "spotlight on the clothes, cutting down the bullshit." (Hot tip for any rebels looking to join in on breaking the new rules: "Moss" is "available for events, shoots, promo," according to her Instagram bio.)
Related: This Video of Kate Moss Instructing Front-Row Photographers to Get Her Best Light Is Peak Kate Moss