Lila Moss, Kate Moss's Daughter, Is the New Face of Marc Jacobs Beauty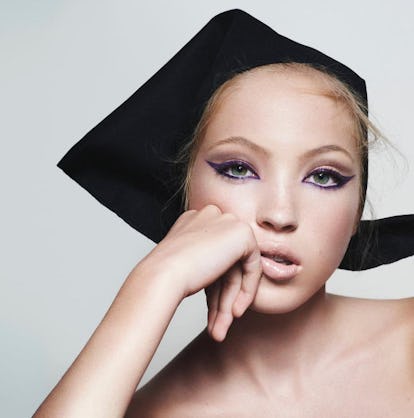 Just days after celebrating her 16th birthday, Lila Moss-Hack, daughter of the singular supermodel Kate Moss and magazine editor Jefferson Hack, has made her first major move into her parent's industry by being named the new face of Marc Jacobs Beauty. The announcement came via both the brand's Instagram and on Moss's own recently launched account @LilaMoss (and it appears the shortened name may be the one she's using professional going forward).
"Lila's beauty, composure, patience and kindness made this project even more special than I could have imagined. With each look we photographed, she got into each character effortlessly and gracefully. Thank you, Lila, for being a part of this extremely special project and thank you, [Kate Moss] and [Jefferson Hack] for allowing us the privilege to work with your beautiful daughter," wrote Jacobs in a comment.
"It's an honor to be the face of the new @marcbeauty campaign," wrote Moss in her own.
While the teen has previously experimented with modeling in a low-key way by being photographed for the British hair brand Braid Bar, this is her first foray into high fashion.
Kate Moss herself has a long history with Jacobs, dating back at least to 1992, when she walked the runway for the infamous grunge collection the designer helmed while he was still head designer at Perry Ellis. At the time she was just a teen. Moss was also a frequent face for Louis Vuitton when Jacobs was the French house's creative director from 1997 to 2014. So while Mom never had a Marc Jacobs Beauty campaign of her own, it's still a fitting first stepping-stone for daughter.
Marc Jacobs also provided one of the first major campaigns for another daughter of a supermodel who is now taking the industry by storm. A shoot for the classic Marc Jacobs fragrance Daisy was Kaia Gerber's first campaign.
No word on how far the younger Moss wants to take her modeling career (she's more accustomed to sitting in the front row than walking down the runway), but, certainly, the fashion world is her oyster if she wants it. If not, she could always follow her father into the publishing side of the industry. She's clearly got the genes for both.
Related: Lila Grace Moss Hack, Kate Moss's Daughter, Celebrated Her 16th Birthday Like a Normal Teen
See Cara Delevingne, Kate Moss, Naomi Campbell, and All the Other Famous Faces in London Fashion Week's Front Row
Naomi Campbell and Kate Moss wearing Burberry at the Burberry September 2017 at London Fashion Week at The Old Sessions House on September 16, 2017 in London, England. (Photo by David M. Benett/Dave Benett/Getty Images for Burberry)

David M. Benett
Cara Delevingne wearing Burberry at the Burberry September 2017 at London Fashion Week at The Old Sessions House on September 16, 2017 in London, England. (Photo by David M. Benett/Dave Benett/Getty Images for Burberry)

David M. Benett
Ellie Bamber attends the Markus Lupfer SS18 presentation during London Fashion Week September 2017 on September 16, 2017 in London, United Kingdom. (Photo by David M. Benett/Dave Benett/Getty Images)

David M. Benett
Alexa Chung attends the JW Anderson show during London Fashion Week September 2017 on September 16, 2017 in London, England. (Photo by Darren Gerrish/Wireimage/WireImage)

Darren Gerrish
Bel Powley wearing Burberry at the Burberry September 2017 at London Fashion Week at The Old Sessions House on September 16, 2017 in London, England. (Photo by David M. Benett/Dave Benett/Getty Images for Burberry)

David M. Benett
Charli XCX attends the House of Holland show during London Fashion Week September 2017 on September 16, 2017 in London, England. (Photo by Darren Gerrish/WireImage)

Darren Gerrish
Stormzy celebrate Burberrys September collection and the Dazed Burberry cover shot by Angelo Penetta during London Fashion Week on September 16, 2017 in London, United Kingdom. (Photo by Dave M. Benett/Dave Benett /Getty Images)

Dave M. Benett
Iris Law wearing Burberry at the Burberry September 2017 at London Fashion Week at The Old Sessions House on September 16, 2017 in London, England. (Photo by David M. Benett/Dave Benett/Getty Images for Burberry)

David M. Benett
Lottie Moss attends Topshop's London Fashion Week show on September 17, 2017 in London, England. (Photo by David M. Benett/Dave Benett/Getty Images for TOPSHOP)

David M. Benett
Lottie Moss attends the VERSUS show during London Fashion Week September 2017 on September 17, 2017 in London, England. (Photo by Darren Gerrish/WireImage)

Darren Gerrish
Kate Moss arrives for the TOPSHOP Fashion show during London Fashion Week September 2017 on September 17, 2017 in London, England. (Photo by Karwai Tang/WireImage)

Karwai Tang
Poppy Delevingne attends the Emporio Armani show during London Fashion Week September 2017 on September 17, 2017 in London, England. (Photo by Antonio de Moraes Barros Filho/WireImage)

Antonio de Moraes Barros Filho
Ellie Bamber attends the Jasper Conran show during London Fashion Week September 2017 on September 16, 2017 in London, England. (Photo by Jeff Spicer/BFC/Getty Images for The British Fashion Council)

Jeff Spicer/BFC
Ellie Goulding attends the Emporio Armani show during London Fashion Week September 2017 on September 17, 2017 in London, England. (Photo by Antonio de Moraes Barros Filho/WireImage)

Antonio de Moraes Barros Filho
Charli XCX attends Topshop's London Fashion Week show on September 17, 2017 in London, England. (Photo by David M. Benett/Dave Benett/Getty Images for TOPSHOP)

David M. Benett
Hermione Corfield attends the Emporio Armani show during London Fashion Week September 2017 on September 17, 2017 in London, England. (Photo by Antonio de Moraes Barros Filho/WireImage)

Antonio de Moraes Barros Filho
FKA Twigs attends the VERSUS show during London Fashion Week September 2017 on September 17, 2017 in London, England. (Photo by Antonio de Moraes Barros Filho/WireImage)

Antonio de Moraes Barros Filho
Hermione Corfield attends the ERDEM show during London Fashion Week September 2017 on September 18, 2017 in London, England. (Photo by Darren Gerrish/WireImage)

Darren Gerrish
Jenna Coleman attends the Erdem catwalk show during London Fashion Week at The Old Selfridges Hotel on September 18, 2017 in London, England. (Photo by David M. Benett/Dave Benett/Getty Images)

David M. Benett
Bel Powley attends the ERDEM show during London Fashion Week September 2017 on September 18, 2017 in London, England. (Photo by Darren Gerrish/WireImage)

Darren Gerrish
Alexa Chung attends the ERDEM show during London Fashion Week September 2017 on September 18, 2017 in London, England. (Photo by Darren Gerrish/WireImage)

Darren Gerrish
Alexa Chung attends the Christopher Kane SS18 catwalk show during London Fashion Week September 2017 at The Tanks at Tate Modern on September 18, 2017 in London, England. (Photo by David M. Benett/Dave Benett/Getty Images)

David M. Benett
Salma Hayek attends the Christopher Kane SS18 catwalk show during London Fashion Week September 2017 at The Tanks at Tate Modern on September 18, 2017 in London, England. (Photo by David M. Benett/Dave Benett/Getty Images)

David M. Benett/Getty Images
Jenna Coleman attends the Emilia Wickstead show during London Fashion Week September 2017 on September 18, 2017 in London, England. (Photo by Darren Gerrish/WireImage)

Darren Gerrish
Neymar and Lewis Hamilton attend the Tommy Hilfiger TOMMYNOW Fall 2017 Show during London Fashion Week September 2017 at The Roundhouse on September 19, 2017 in London, England. (Photo by David M. Benett/Dave Benett/Getty Images for Tommy Hilfiger )

David M. Benett
Jasmine Saunders attends the Tommy Hilfiger TOMMYNOW Fall 2017 Show during London Fashion Week September 2017 at the Roundhouse on September 19, 2017 in London, England. (Photo by Mike Marsland/Getty Images for Tommy Hilfiger)

Mike Marsland
Daisy Lowe attends the Tommy Hilfiger TOMMYNOW Fall 2017 Show during London Fashion Week September 2017 at The Roundhouse on September 19, 2017 in London, England. (Photo by David M. Benett/Dave Benett/Getty Images for Tommy Hilfiger )

David M. Benett
Lottie Moss attends the Tommy Hilfiger TOMMYNOW Fall 2017 Show during London Fashion Week September 2017 at the Roundhouse on September 19, 2017 in London, England. (Photo by Mike Marsland/Getty Images for Tommy Hilfiger)

Mike Marsland
Thylane Blondeau attends the Tommy Hilfiger TOMMYNOW Fall 2017 Show during London Fashion Week September 2017 at the Roundhouse on September 19, 2017 in London, England. (Photo by Mike Marsland/Getty Images for Tommy Hilfiger)

Mike Marsland
Lara Stone attends the Tommy Hilfiger TOMMYNOW Fall 2017 Show during London Fashion Week September 2017 at the Roundhouse on September 19, 2017 in London, England. (Photo by Mike Marsland/Getty Images for Tommy Hilfiger)

Mike Marsland