Lila Grace Moss Hack, Kate Moss's Daughter, Celebrated Her 16th Birthday Like a Normal Teen
There was plenty of Nutella involved, of course.
---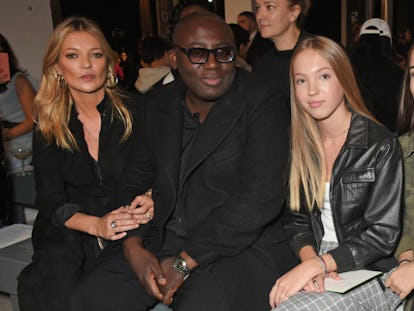 David M. Benett/Getty Images
Lila Grace Moss Hack, supermodel Kate Moss's daughter with Dazed Media founder Jefferson Hack, may already have a modeling career of her own and a front-row seat at Fashion Week, but she celebrated her 16th birthday like a regular teen.
Moss Hack, whose birthday was September 29, turned 16 in a sunny European locale. According to the Daily Mail, the supermodel scion celebrated her birthday with her mom, her best friend Iris Law, and Law's mother, Sadie Frost.
Although she has a private Instagram account, photos and videos from the celebration were shared by her close friends and family.
On Saturday, the birthday girl posed with her mom on a boat in an undisclosed location, while Law captured the photos for her Instagram Story. Like most teens are wont to do, Moss Hack and Law consumed copious amounts of Nutella for Instagram. The following day, Moss Hack reportedly shared a birthday dinner with her mother at Sexy Fish in Mayfair. Of course, no 16th birthday would be complete without being tagged in some throwback photos from family friends on Instagram, and as Moss Hack's godmother, Frost took on that responsibility. "The kindest loveliest god- daughter i could ever ask for. We have all shared so many wonderful family moments.. Here when butter wouldn't melt! Not sure thats the case now!" she wrote in her celebratory Instagram caption.
It was just last September that Moss Hack celebrated her birthday a few days early by attending Fashion Week with her mom and fellow scion Stella Jones, sitting front row at a Topshop runway show in London. It was during that London Fashion Week show that Moss Hack also interviewed Gigi Hadid, proving that not only does she have the chops to be a model (she starred in her first campaign for Braid Bar in the spring of 2017 alongside Jones), but she could turn out to be a pretty good fashion critic as well.
Related: Lila Grace Moss Hack, Kate Moss's Daughter, Just Scored Her First Modeling Gig