Iris Law, Jude Law's Daughter, Reveals Her Tips for the Ultimate No Makeup Look
Here, Iris Law opens up about her favorite essential oils, skincare routine and her ultimate five minute look.
---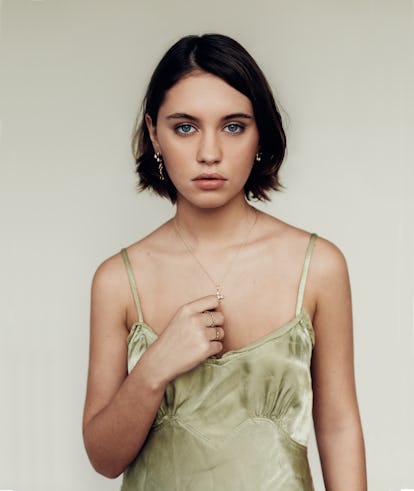 by David Urbanke. Produced by Biel Parklee.
Since coming on the scene late last year, Iris Law, daughter of Jude Law and Sadie Frost, has climbed the modeling ranks with remarkable speed. In January, she became an ambassador for Burberry Beauty and, now, the 16-year-old has landed another campaign for the heritage brand as the face of its Essentials range. "From going through this campaign, it's really opened my eyes to the different ways you can have a strong look and natural look," she told W. Here, the British beauty opens up about her favorite essential oils, skincare routine and her ultimate five minute look.
Your look in three words:
Colorful, Eclectic, Feminine.
Medicine cabinet snapshot:
A lot of natural oils and ayurvedic powders which I mix with rose water, carrot butter, rose hip oil, coconut oil. I just try to stay very hydrated.
Good skin starts with:
For me, definitely moisturizer. I have quite mixed skin and using oil actually balances the amount of oil you produce as well as hydrating the dry areas, so for me rosehip oil and for my body coconut oil.
Best advice from your dermatologist:
Drink lots of water.
Best advice from your facialist:
UV lights therapy.
Makeup miracles:
I think mascara is always really great to give a little lift to the eye and make your eyes pop. You can make it look natural or more clumpy, which can be interesting. I like Burberry Cat Lashes because it's very natural and it doesn't clump together so I can use it on my bottom lashes as well.
Never leave the house without:
Definitely lip balm, mascara, and a lip velvet of whatever color goes with outfit because I can either use that as an eyeshadow or a lipstick.
A good hair day starts with:
Sometimes I do coconut oil over night, but generally I don't do anything. Sometimes I prefer my hair when I have a shower and put it up in a towel and leave it so I goes a bit wavy, but I think my hair just does it's own thing.
Nails must be:
I like them natural, but I also like them painted. Right now I have on the Burberry Tea Rose nail polish, which is so perfect. It's the exact color that I like, it's like pink, but very natural. I like pinky-natural colors or military red.
Beauty from the inside out:
Turmeric tea, ginger tea and warm water with lemon.
Exercise obsession:
I did pilates a lot and then I really got into training and trained 3, 4 times a week.
Product that you picked up from the pros:
Probably the Burberry Effortless Contouring Pen Face Stick, because it's very thin and it doesn't look like heavy contour, it's just natural looking. And Wendy Rowe taught me how to use that on my jaw, cheeks and around the eyes, so I definitely carried that away and still use that when I am going out.
A woman should smell like:
I like quite flowery, but also vanilla.
Spa-cation at:
Japan; they have good skincare.
TSA-friendly essentials:
I definitely wash and moisturize my face the way I normally do before I get on the plane, and I bring a lip balm and rose water spray and maybe a moisturizer, but generally I just leave my skin.
Best advice from mom:
Be confident with your ideas and opinions, and if you want to express yourself be confident in it.
Best-kept beauty secret:
Probably using lip balm on my eyelids, eyelashes and cheekbones when I'm not wearing makeup.
Related: Jude Law and Sadie Frost's Teen Daughter Iris Law Is Just Starting to Figure Out This Modeling Thing
Irina Shayk, Hailey Baldwin, and More of The Best Beachside Beauty Moments of The Week
Model Bianca Balti keeps her poolside look festive with her multi-colored sunglasses, polished waves and a nude lip.

Photo by @biancabalti
Model Adriana Lima bares her natural beauty taking the ultimate no makeup selfie with natural waves.

Photo by @adrianalima
Model Hailey Baldwin rocks the ultimate summer glow with her blonde locks in a sleek top knot.

Photo by @haileybaldwin
Model Joan Smalls poses beachside wearing her hair in two sleek top knots with luminous skin.

Photo by @joansmalls
Blogger Negin Mirsalehi styles her pastel one piece with a high tousled pony embellished with a pink scrunchie.

Photo by @negin_mirsalehi
Victoria's Secret Angel Elsa Hosk pairs naturally blonde tousled beach waves with her chic gold-rimmed sunglasses.

Photo by @hoskelsa
Victoria's Secret Angel Josephine Skriver wears her hair brunette locks in a tousled high pony with a radiant glow.

Photo by @josephineskriver
Model Ashley Graham is all smiles posing beachside with her hair long brunette locks in tousled beachy waves.

Photo by @theashleygraham
Model Irina Shayk bares her natural, luminous skin with a nude lip and wet, tousled beach waves.

Photo by @irinashayk
Model Emily Ratajkowski channels the ultimate L.A. beach vibes with her sun-kissed glow and natural waves.

Photo by @emrata
Model Bella Hadid takes a sunset dip with her brunette locks slicked back with luminous skin.

Photo by @bellahadid
Watch: Claire Foy Was Very, Very Pregnant When She Auditioned for The Crown
Claire Foy Was Very, Very Pregnant When She Auditioned for The Crown