Kate Winslet Accidentally Chopped Off Someone's Ear While Attempting to Cut Their Hair
Put down the scissors, Kate.
---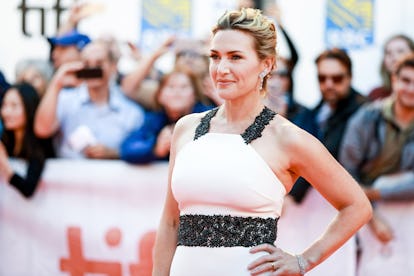 Rich Fury/Getty Images
Kate Winslet is a woman of many, many talents. But as it turns out, cutting hair is not one of them.
On Tuesday night's episode of The Tonight Show With Jimmy Fallon, the The Mountain Between Us star chatted with the host about her childhood dreams of becoming a hairdresser. "When I was younger, I thought to myself, 'Well, if I don't end up making it as an actress—or even getting a job ever—I'd quite like to be a hairdresser,'" Winslet said. "And so I started by cutting my own hair, obviously, as one does."
Her first foray into the world of hairstyling was right before she was set to go to a wedding. "My mother had booked us these appointments at a salon which was a big deal in my house because we did not go to hair salons, ever," she told Fallon. "So I thought I'd just help her out. I think in my brain I was thinking I would save her the money or something, so I went under the kitchen table and gave myself a haircut."
Apparently, things turned out alright, because a family friend allowed her to try her hand at trimming his hair, too. This time, though, the haircut did not go as planned. "Alarmingly, after that story. A family friend—who was a fully grown man, ladies and gentlemen—allowed me to cut his hair, and I cut off a piece of his ear," she admitted to a horrified audience.
"You cut off a piece of a human man's ear?!" asked a shocked Fallon, who was seemingly trying to process the startling information he'd just been given on-air. "Yes. I actually saw it fall," she confirmed. "It was a little nick, it wasn't like a chunk." Still, it doesn't sound great.
Somehow, Winslet and her poor victim have managed to maintain a relationship. "He's proud of his little bit of missing ear," she says. Apparently, having ear cut off by the Oscar-winning actress is his "claim to fame."
Thankfully, it was after this wholly traumatizing event (for Winslet, her victim, and all of us who have now heard the story) that the Titanic star decided to pursue acting. Good choice, Kate. Good choice.
Related: Kate Winslet Got Advice From Her BFF Leonardo DiCaprio for Her New Role in The Mountain Between Us
The Best Oscar Hair and Makeup of All Time: