Stylist Kate Young's Favorite Beauty Tip Comes Courtesy of Sienna Miller
Something you'll definitely want to try for yourself.
---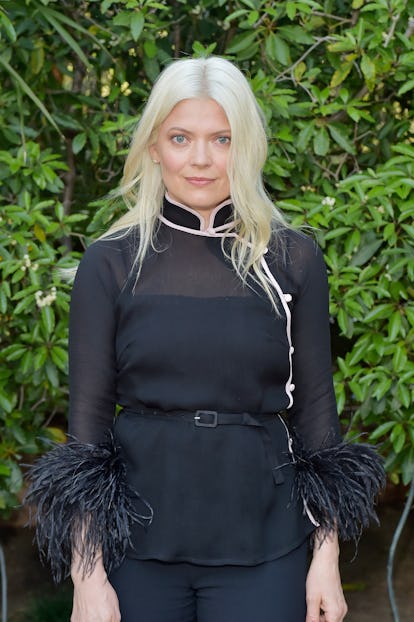 Stefanie Keenan
As one of Hollywood's top stylists, Kate Young spends most of her time getting her famous clients, like Selena Gomez, Margot Robbie, and Dakota Johnson (just to name a few), into their sartorial best, whether it be for the red carpet, sitting front row at a fashion show, or just going about their day-to-day lives. But that doesn't mean she doesn't have time for the leisurely things in life as well—namely, lush gardens and summer cocktails. On Thursday night, Young will unveil her first "experiential project," an immersive installation called Maison St-Germain, done in collaboration with St-Germain elderflower liqueur. The project, which will be open to the public starting Friday, takes over Manhattan's Battery, transforming the park into a midsummer party of Gatsby-esque proportions. Here, Young talks about the differences between creating a red-carpet look and an installation, as well as her top beauty tricks and tips—including a favorite she picked up from a certain A-list client.
What was your jumping-off point for this project?
I've always been a fan of St-Germain liqueur, and especially love it with champagne. I was inspired when I heard about the concept of Maison St-Germain and last year's debut, and was excited to take on my first-ever experiential project. Reimagining and capturing the ephemeral beauty of the 1,000 delicate elderflowers that make up each bottle of St-Germain was inspiring when we started brainstorming for this year's iteration. The wildflowers have to be gathered quickly and thoughtfully during a brief harvest time; it's a reminder to celebrate life's fleeting moments. This sparked my imagination. I immediately thought of the joyful decadence and lavish parties of the 1920s, like the ones in F. Scott Fitzgerald's book The Beautiful and Damned. It's an evocative title—you feel the time, the glamour and lifestyle. Similar to the way I plan a shoot, I developed a mood board based on my inspirations and vision for the experience, and then we got down to working out the practical details of how we can bring Maison St-Germain to life.
What was on your mood board?
Channeling the 1920s, I was inspired by the romantic and surrealist feel of the era. I went for a mixture of delicate and mythical florals, disco balls, and images that really captured the essence of the lavish lifestyle.
How did approaching this project differ from how you approach styling a major red-carpet moment?
When I'm styling clients, I first learn what's interesting to them. I always research them and their work before I begin building out looks. My team and I really dive into familiarizing ourselves with what they've worn before and what they do and don't like. It's about creating a representation of who they aspire to be and ensuring that this is portrayed through their look. I ask everything from who their idols are to who they want to look like, and then I go from there.
There was a lot of similarity in my process when I started building out the concept for Maison St-Germain. I really got to know more about the heritage, qualities, and harvest process of the elderflower liqueur, and was then able to develop a story around the brand DNA. The aspects that resonated with me most are what I wanted to be the focus. At the Battery, we purposely didn't make a set path in order for there to be areas and moments of discovery. Visitors will have their own experiences as they encounter each vignette. The goal is to create an immersive experience that tells the brand story without too much structure.
Your best-kept beauty secret is:
Illuminare concealer.
Beauty myth you'd like to debunk:
Natural blonde? Huh?
A good hair day starts with:
Joe at Orlo salon.
Secret to keeping bleached-blonde hair healthy:
I should write a book. Kerastase and as little heat styling as possible.
Good skin starts with:
Best advice from your dermatologist:
Dr. Sturm says lay off the acids. It's really worked.
Best advice from your facialist:
Visit regularly.
Best advice from Mom:
Sweat every day.
Best beauty tip you've picked up from a client:
Tan luxe drops, via Sienna Miller.
Favorite red-carpet beauty look that you paired with a client's outfit:
Michelle Williams's red lip and yellow dress [at the 2006 Oscars.]
Most underrated product:
Aquaphor.
Never leave the house without:
Lip balm.
Daily beauty routine:
Joanna Vargas cleanser and serums, and Dr. Sturm blood cream.
Exercise obsession:
Pilates with Ashley at Fort Pilates
Beauty products you always travel with:
Urban essential wipes, Thieves spray, La Prairie lip and eye-cream compact.
Related: Meghan Markle's Wedding Makeup Artist Breaks Down the Products She Used on Her Big Day