Avengers Actress Katherine Langford Dyes Hair Red for 2019
It's led fans to wonder: Is this for the new Avengers movie?
---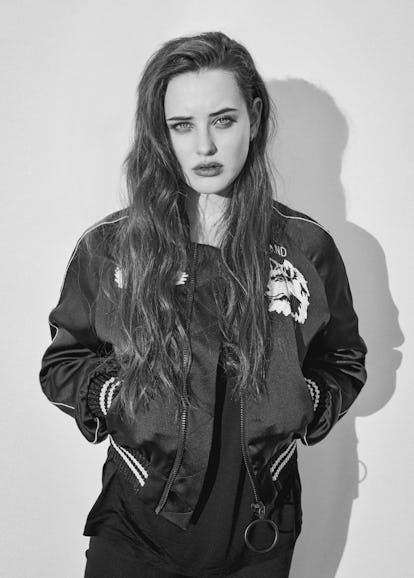 Katherine Langford closed out 2018 with bleached brows, and now she's starting the new year with a vivid red 'do. The Australian actress unveiled her new hair color on Instagram on Sunday evening with a close-up selfie captioned "She (red)y," with a couple of haircut-woman emojis. (She also posted a cryptic still image of the very ends of her now-red hair against a L'Oréal Professionnel smock; it's not a far leap from there to intuit that she's sitting in a salon chair.) Her eyebrows, it seems, have been restored to color.
Langford, 22, who's perhaps best known for her roles in 13 Reasons Why and Love, Simon, visited the Perth-based salon Circles for her new look, tagging it in a comment on her post. "She's loving her new Copper tones," the salon wrote in its own Instagram post.
Though Lanford's bleached-eyebrows selfie also gave a glimpse of hair that looked almost henna-red, a quick scroll through her Instagram reveals that this is the first time she's really, really gone red. (She did, however, go blonde last year, for the sci-fi film Spontaneous, with Christopher Plummer.) Her peers and various costars chimed in with their support in the comments: "Stunning," Sabrina Carpenter wrote; Tommy Dorfman simply added a "yesssssss" (yes, that is "s" seven times). Kate Walsh wrote, "Pretty kitty"; Hari Nef said, "omg"; Ashley Graham added, "L O V E"; and the Australian musician Amy Shark commented, "Why are you so like this." (Both Graham and Shark also added raised-hands emojis.)
With the news that Marvel's upcoming Avengers film is in the midst of reshoots, Langford's fans also jumped into the comments to speculate about whether the new look might be for a role (after all, she promised Netflix, in her eyebrow selfie last month, that her brows would return to their natural state before she started filming Cursed, the Frank Miller–created new series)—like, for example, the Marvel Cinematic Universe's own Jean Grey (the character played by Sophie Turner in the X-Men franchise), or, more likely, the daughter of Tony Stark and Pepper Potts. She's also slated to appear in the Rian Johnson–directed mystery Knives Out—she posted a selfie, her hair looking extra dark, from what looks to be the set of the film back in December; per IMDb, it's now in postproduction. Or, you know, it could just be for fun. But her caption does leave us with the question: Ready for what?