Katie Holmes and Jamie Foxx Indirectly Confirm Relationship By Confirming They Haven't Broken Up
Five years after they were first speculated to be an item.
---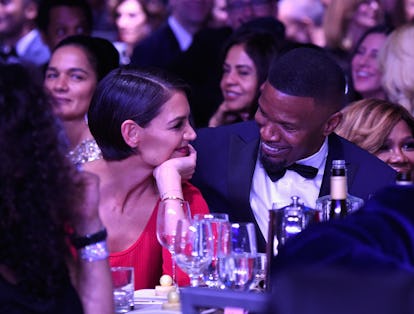 Kevin Mazur/Getty Images for NARAS
Leave it to Katie Holmes and Jamie Foxx to find a new way to announce a celebrity relationship. Some opt for Harry Potter jokes, others go Instagram official without the costumes; this low-key pair had a rep deny a story about them breaking up.
After a report published by Radar speculated that Holmes and Foxx decided not to go ahead with their "intimate dream wedding they'd been planning," because "Katie just couldn't get over her trust issues," the actress' publicist issued a statement. "The Radar story is 100 percent untrue," Leslie Sloane told People. While Sloane didn't specify which part was untrue (was it the wedding, the "trust issues," or the fact that they were romantic at all?), her denial seemingly confirms that the pair are indeed dating.
Incredibly, it's been five years since they were first linked together — and have managed to keep their alleged relationship quiet since. Holmes and Foxx were caught on video dancing to "Blurred Lines" in the Hamptons in 2013 and Foxx later addressed the incident, claiming the pair weren't romantically together. "[The rumors] are one hundred percent not true," he told Entertainment Tonight. "In fact, it's quite hilarious because we simply danced at a charity event along with a lot of other people."
Two years later, a photo of them holding hands in Foxx's home studio surfaced (not to be confused with the photos of them holding hands that circulated after a beach outing last September). Foxx acknowledged it to Entertainment Tonight, saying, "I guess some knuckle head person who was here hit us with the phone cam. I guess they are trying to get money for whatever. It's amazing what people will do to sell you out."
That same year, a source told People, "This is not some intense romance," the source said. "Jamie and Katie are friends and have been for a long time. They are two adults who are attractive and single, and so apparently conclusions will be drawn. But contrary to those conclusions, they're not about to run off and make some serious commitment." The statement from Holmes' rep certainly confirms that.