A Timeline of Katie Holmes and Jamie Foxx's Relationship, Officially Confirmed After Five Years
A history of the most under-the-radar couple in Hollywood.
---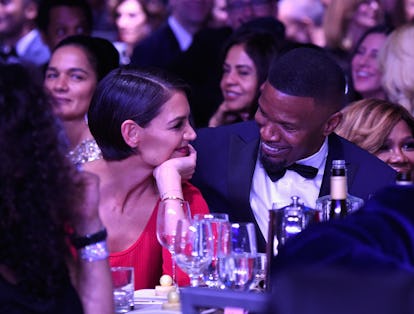 Kevin Mazur/Getty Images for NARAS
Are Katie Holmes and Jamie Foxx over? Are they stronger than ever? Are they even together, and for how long have they been a couple, and when did it start? Is it because of a clause in her divorce, or just something to protect his image?
There are far more questions than answers available when it comes to the years-long relationship of Katie Holmes and Jamie Foxx, arguably the most secretive couple in Hollywood (well, they're technically bicoastal, as Holmes lives with her daughter, Suri, in New York), but here's the best timeline we could piece together, including rumors of their recent breakup:
Summer 2013: They dance together in the Hamptons.
Whether this is their first date or their first outing or simply the first time photographers catch them, we can't say. But oh, my god, dancing to "Blurred Lines" together at a benefit in the Hamptons is the most 2013 date night possible. The rumors begin!
The following four years are quiet (mostly).
Both parties deny that there's a relationship, and unnamed sources give tips that amount to, basically, Foxx and Holmes hanging out at one another's houses and having non-serious fun. Friends with benefits or secret soulmates? No one knows for sure.
Then, all of a sudden, they're popping up! Is this because five years have elapsed since Katie's divorce from Tom Cruise, and, per a rumored clause in her divorce contract, she's allowed to be spotted with other men? Vogue Australia seems to think so.
May 2017: They go to Paris together.
Keep in mind, a private jet to Paris is the celebrity equivalent of, like, Netflix and chill.
September 2017: They take a walk on the beach.
It's a walk to remember apparently, because they're holding hands in public. As Miley Cyrus would say, "In Maaaaaalibu…with you."
December 2017: They celebrate Foxx's 50th birthday together.
To be fair, a ton of other celebrities are at the party, too.
January 2018: They attend a pre-Grammys event together.
Our most abundant trove of pictures of Holmes and Foxx together yet.
February 2018: Foxx walks away from an interview after being asked about Holmes.
So, still not ready to talk about it, huh?
May 2018: Date night in New York.
June 2018: Holmes's publicist denies…something.
Radar Online posts a story that the couple were planning a wedding, but that Holmes called it off because of her trust issues. Her rep then denies the story as "100 percent untrue," though she never clarifies which part. The wedding? The issues? The whole relationship? But in denying it, the rep may have confirmed the relationship. Finally.
And, a day later, Katie is in Paris. Jamie is at clubs doing business but also partying. It's all good, apparently.
Related: Katie Holmes and Jamie Foxx Indirectly Confirm Relationship By Confirming They Haven't Broken Up.