Kendall Jenner Wore an Anti-Trump Jacket to the March for Our Lives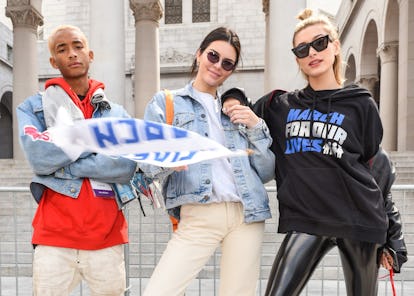 Presley Ann/WireImage/Getty Images
Almost a year after her infamous Pepsi ad, which she later called a "huge learning lesson," Kendall Jenner has at last attended a real protest — this time, with a clear political message in tow. During Saturday's March for Our Lives, the model joined millions of protesters around the world to rally against gun violence and call for better gun control laws. Marching with Jaden Smith and best friend Hailey Baldwin at the Los Angeles march, Kendall wore her protest sign on her back: a denim jacket covered in a picture of Donald Trump with his mouth safety-pinned shut, the words "GOD SAVE US… HE AIN'T MY PRESIDENT…" surrounding the portrait. For her part, Hailey wore an official March for Our Lives sweatshirt, while Jaden wore the same outfit he would later wear to the Nickelodeon Kids' Choice Awards that night.
Kendall, Hailey, and Jaden were far from the only celebrities at the March on Saturday. Kendall's sister Kim Kardashian, Kanye West, and their daughter North flew to Washington, D.C., to march, while protesters were joined byAriana Grande, Demi Lovato, Miley Cyrus, and Jennifer Hudson. Meanwhile, Lady Gaga took to the streets of New York, Yara Shahidi posted protest poetry on Instagram, and Harry Styles and his tour band did their protesting while on tour in Oberhausen, Germany.
Kendall's jacket wasn't the only wearable protest sign of the day — nor was it the only one posted on denim. At Saturday night's Nickelodeon Kids' Choice Awards, Millie Bobby Brown wore a denim shirt with the names of the 17 victims of the Parkland, Florida, shooting embroidered on the back and the words "March for Our Lives" across the shoulder blades. She also dedicated her speech to the cause and her award to the victims.
"As we saw a moment ago, the March for Our Lives demonstrations that took place all over the world today have inspired me and impacted us all in one way or another," she said. "But more than anything, I get to be up here, and I'm privileged to have a voice that can be heard, one that I can use to hopefully make a positive difference and help influence change."
"For the angels among us, your spirit lives on," she said at the end of her speech. "This is for you."
Here's hoping that Millie, Kendall, and other celebrities continue to fight against gun violence after March for Our Lives.
Related: The Lessons a Teen Activist Want You to Learn From the March for Our Lives
March for Our Lives: Scenes From On the Ground at the Washington, D.C., Anti–Gun Violence Rally
On the ground at the March for our Lives in Washington, D.C. to protest gun violence in America on Saturday, March 24th, 2018. Photo by Maegan Gindi for W Magazine.

Maegan Gindi
On the ground at the March for our Lives in Washington, D.C. to protest gun violence in America on Saturday, March 24th, 2018. Photo by Maegan Gindi for W Magazine.

Maegan Gindi
On the ground at the March for our Lives in Washington, D.C. to protest gun violence in America on Saturday, March 24th, 2018. Photo by Maegan Gindi for W Magazine.

Maegan Gindi
On the ground at the March for our Lives in Washington, D.C. to protest gun violence in America on Saturday, March 24th, 2018. Photo by Maegan Gindi for W Magazine.

Maegan Gindi
On the ground at the March for our Lives in Washington, D.C. to protest gun violence in America on Saturday, March 24th, 2018. Photo by Maegan Gindi for W Magazine.

Maegan Gindi
On the ground at the March for our Lives in Washington, D.C. to protest gun violence in America on Saturday, March 24th, 2018. Photo by Maegan Gindi for W Magazine.

Maegan Gindi
On the ground at the March for our Lives in Washington, D.C. to protest gun violence in America on Saturday, March 24th, 2018. Photo by Maegan Gindi for W Magazine.

Maegan Gindi
On the ground at the March for our Lives in Washington, D.C. to protest gun violence in America on Saturday, March 24th, 2018. Photo by Maegan Gindi for W Magazine.

Maegan Gindi
On the ground at the March for our Lives in Washington, D.C. to protest gun violence in America on Saturday, March 24th, 2018. Photo by Maegan Gindi for W Magazine.

Maegan Gindi
On the ground at the March for our Lives in Washington, D.C. to protest gun violence in America on Saturday, March 24th, 2018. Photo by Maegan Gindi for W Magazine.

Maegan Gindi
On the ground at the March for our Lives in Washington, D.C. to protest gun violence in America on Saturday, March 24th, 2018. Photo by Maegan Gindi for W Magazine.

Maegan Gindi
On the ground at the March for our Lives in Washington, D.C. to protest gun violence in America on Saturday, March 24th, 2018. Photo by Maegan Gindi for W Magazine.

Maegan Gindi
On the ground at the March for our Lives in Washington, D.C. to protest gun violence in America on Saturday, March 24th, 2018. Photo by Maegan Gindi for W Magazine.

Maegan Gindi
On the ground at the March for our Lives in Washington, D.C. to protest gun violence in America on Saturday, March 24th, 2018. Photo by Maegan Gindi for W Magazine.

Maegan Gindi
On the ground at the March for our Lives in Washington, D.C. to protest gun violence in America on Saturday, March 24th, 2018. Photo by Maegan Gindi for W Magazine.

Maegan Gindi
On the ground at the March for our Lives in Washington, D.C. to protest gun violence in America on Saturday, March 24th, 2018. Photo by Maegan Gindi for W Magazine.

Maegan Gindi
On the ground at the March for our Lives in Washington, D.C. to protest gun violence in America on Saturday, March 24th, 2018. Photo by Maegan Gindi for W Magazine.

Maegan Gindi
On the ground at the March for our Lives in Washington, D.C. to protest gun violence in America on Saturday, March 24th, 2018. Photo by Maegan Gindi for W Magazine.

Maegan Gindi
On the ground at the March for our Lives in Washington, D.C. to protest gun violence in America on Saturday, March 24th, 2018. Photo by Maegan Gindi for W Magazine.

Maegan Gindi
On the ground at the March for our Lives in Washington, D.C. to protest gun violence in America on Saturday, March 24th, 2018. Photo by Maegan Gindi for W Magazine.

Maegan Gindi
On the ground at the March for our Lives in Washington, D.C. to protest gun violence in America on Saturday, March 24th, 2018. Photo by Maegan Gindi for W Magazine.

Maegan Gindi
On the ground at the March for our Lives in Washington, D.C. to protest gun violence in America on Saturday, March 24th, 2018. Photo by Maegan Gindi for W Magazine.

Maegan Gindi
On the ground at the March for our Lives in Washington, D.C. to protest gun violence in America on Saturday, March 24th, 2018. Photo by Maegan Gindi for W Magazine.

Maegan Gindi
On the ground at the March for our Lives in Washington, D.C. to protest gun violence in America on Saturday, March 24th, 2018. Photo by Maegan Gindi for W Magazine.

Maegan Gindi
On the ground at the March for our Lives in Washington, D.C. to protest gun violence in America on Saturday, March 24th, 2018. Photo by Maegan Gindi for W Magazine.

Maegan Gindi
On the ground at the March for our Lives in Washington, D.C. to protest gun violence in America on Saturday, March 24th, 2018. Photo by Maegan Gindi for W Magazine.

Maegan Gindi
On the ground at the March for our Lives in Washington, D.C. to protest gun violence in America on Saturday, March 24th, 2018. Photo by Maegan Gindi for W Magazine.

Maegan Gindi
On the ground at the March for our Lives in Washington, D.C. to protest gun violence in America on Saturday, March 24th, 2018. Photo by Maegan Gindi for W Magazine.

Maegan Gindi
On the ground at the March for our Lives in Washington, D.C. to protest gun violence in America on Saturday, March 24th, 2018. Photo by Maegan Gindi for W Magazine.

Maegan Gindi
On the ground at the March for our Lives in Washington, D.C. to protest gun violence in America on Saturday, March 24th, 2018. Photo by Maegan Gindi for W Magazine.

Maegan Gindi