Take a Look Inside Kendall Jenner and Ben Simmons's $25,000-a-Month Summer Rental Home
It's more than three times larger than Prince Harry and Meghan Markle's Kensington Palace cottage.
---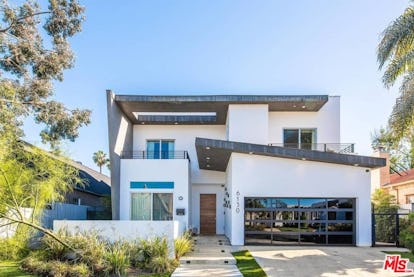 Trulia
Kendall Jenner and Ben Simmons have just taken their relationship to the next level: summer home rental. The pair, who possibly accidentally made their debut as a couple on Khloé Kardashian's Instagram Stories during the Fourth of July, have just secured their first home together, according to Trulia. They skipped right past "starter home," too.
Jenner and Simmons decided on a decadent $25,000-a-month rental in Los Angeles' Beverly Grove neighborhood, near the iconic celebrity playground the Grove mall. What comes with that price tag? Quite a lot of space for just the two of them. Jenner and Simmons have 4,052 square feet to spread out in (that's more than three times larger than the Kensington Palace cottage Prince Harry and Meghan Markle got engaged in, for, you know, perspective).
With that footprint, five bedrooms and six bathrooms are included. There is also a large pool and spa that the master bedroom terrace overlooks. Inside, a large open foyer gives way to the dining room and living room, separated by a fireplace. The open floor plan has the kitchen within walking distance of the couch and TV, where the pair can keep up with their own performances onscreen.
While Jenner and Simmons are just renting, the reality TV star and model has a budding real estate portfolio, like every other member of her family. Two years ago, Jenner purchased Emily Blunt and John Krasinski's Hollywood Hills home for $6.5 million. Considering that one is slightly smaller, though, at 4,800-square-feet, perhaps Jenner thought it was time for an upgrade. She's certainly earned it, as she's become one of the most in-demand models.
While Jenner has yet to comment officially on her relationship, the pair were said to have been "keeping things casual" in May, according to a source at E! News. "Kendall has been out with Ben Simmons a few times and she likes him. They have mutual friends and have been getting to know each other over the last few weeks. He has been spending time in L.A. with her and has been to her house." Oh, how a month can fly by.