Kendall Jenner Is Now the Reigning Queen of the Selfie, Now That Kim Kardashian Has Abdicated Her Throne
Kim Kardashian may have declared the end of the selfie earlier this week, but Jenner is still here for them.
---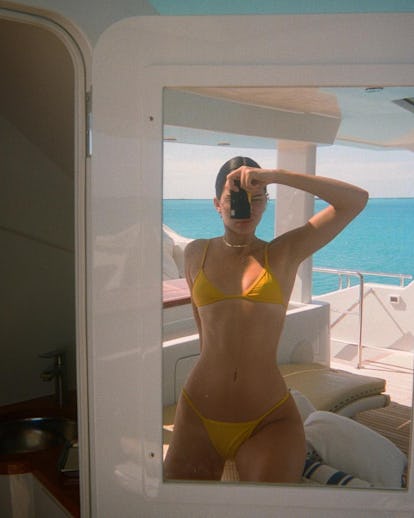 @kendalljenner
Kim Kardashian may have declared the end of the selfie earlier this week, but fortunately, her younger sister Kendall Jenner is still here for them. On Saturday, the second-youngest Kardashian-Jenner posted a slideshow of images of herself—a bunch of belfies, to use the jargon—in a lemon-yellow high-cut bikini, a set from the latest Kendall + Kylie swimwear line. (Not her only lemon-yellow bikini, by the way.) "@kendallandkylie swim," she captioned, with a lemon emoji. In one hand, she held a lime.
She also added a handful of videos to her Instagram stories of the same look, with the same caption (and the addition of a couple flame emojis); later on, she posted the beginnings of a water-balloon fight. The venerable Daily Mail hypothesized that the whole thing went down at her sister and business partner Kylie's Los Angeles mansion.
"I had to like all three photos," Kylie commented on the post, which also garnered likes from fellow models Kaia Gerber and Lex Herl. Paris Hilton left a fire emoji; Justine Skye wondered, "Ok but like… can you chill?" Elder sister Khloé Kardashian had a bit more of a sarcastic remark: "Why did you cut my head off?" she asked.
It had been nearly three weeks since Jenner's last selfie—a late-night image of her face captioned "4am" with a red wine emoji, posted on June 6. Erstwhile selfie pioneer Kim Kardashian did comment on that image, remarking "Damn!!!!!" (That's five exclamation points, three flame emojis.)
Kylie, for her part, posted a few separate photos of herself posing alongside one of her fleet of cars on Saturday around the same time as Kendall's bikini shots. These were not selfies, though. Kendall has laid claim to the selfie—at least, until Kim is back at it, because it's only a matter of time.