Kendall Jenner Blasts TMZ for Sharing Her Home's Location
"You're putting my life in danger."
---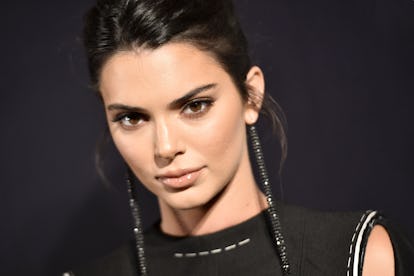 Composite. Steven Ferdman/Getty Images
Celebrities are putting their foot down when it comes to privacy. Just ask Kendall Jenner. When TMZ released a video that details the "stories behind the stories" the site breaks every day, TMZ's founder Harvey Levin took the opportunity to offer his meta-commentary on how the news team got the scoop on a reported stalker found at the supermodel's home.
Last month, a man was caught and pled guilty to trespassing and stalking Jenner at her house's pool, which TMZ reports is located in "a beautiful gated community" with "multimillion-dollar homes." The descriptor of the neighborhood was vague and benign for the most part, but the next visual cue shown in Levin's video caused Jenner to push back on Twitter. The video shows paparazzi photos of Jenner's private residence, including footage of the backyard and front of the house, clearly showing the location of Jenner's home.
Jenner quote retweeted the video published by TMZ and added, "and how do you guys think these terrifying people know where my house is? cuz you release not only photos but my location. it is so beyond unsafe. is this not our one ounce of privacy we can get??? …."
She continued to push back on the report while acknowledging that as a celebrity—and particularly as a member of the Kardashian family—she is going to make headlines by virtue of simply existing. "I understand what i've signed up for but when you release the exact location to where i live THAT is when you're putting my life in danger," she wrote. "Your home is your safe haven, but for me, cuz of outlets like you, my home is anything BUT. you should be ashamed of yourself," she concluded.
The supermodel is hardly the only celebrity in recent memory to contribute to the backlash against TMZ. Yesterday, Cardi B called out the celebrity gossip machine for egging on her reported feud with Nicki Minaj and attempting to capture images of her daughter, Kulture, after she had repeatedly asked for no photos of the baby to be taken. The statement, which was released on her Instagram and later deleted, highlighted the invasion of privacy she has felt since reaching the height of her fame and made it clear that her new single (to be released November 26) contains no "jabs" at Minaj at all. Cardi B wrote that TMZ "really pressed my button a couple of weeks ago when ya had photographers literally stalk me and my daughter when I clearly said repeatedly I don't want to show my daughter."
"With fame comes crazy people, stalkers and psychopaths so I want to protect my child till I'm ready to show her to the world but NO integrity don't matter to ya," the rapper went on.
Jenner has a point. Showing off the paparazzi photos taken of the exact location of a celebrity's home after it was reported that the residence was recently trespassed does nothing but fuel the unsafe feeling the celebrity likely feels—and for the Kardashians, especially, there is some sensitivity around the subject of stalkers and burglars. Kim Kardashian was robbed at gunpoint in Paris in 2016, an ordeal that caused the media mogul to go into hiding for an extensive period of time; and Kylie Jenner had her own experience with a stalker. Kendall Jenner also previously reported that her condo in Westwood was burglarized ("I got robbed. I had stalkers that literally broke in while I was home. It happened one too many times, and I just felt trapped," she told Vogue for her April 2018 cover interview).
Perhaps TMZ ironically already condemned themselves, when a correspondent told the camera, "Gates, guards, they only keep honest people out."
Related: Gigi Hadid's Fan Base Is Called the Gi-Force, but What About All the Other Young Supermodels?