Kendall Jenner Was Reportedly Hospitalized Right Before the Oscars
She recovered just in time.
---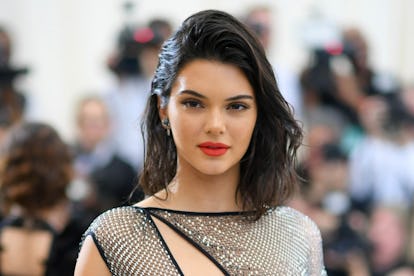 Getty Images
Before she showed up at the Vanity Fair Oscars after-party, Kendall Jenner reportedly made a brief trip to the hospital. According to The Blast, sources say the model was prepping for the red carpet over the weekend with a vitamin drip when she had a bad reaction to the mixture. She immediately checked into the Cedars-Sinai Medical Center in Beverly Hills to be treated, and was released shortly after.
Sonia Patel, PharmD, Chief Pharmacist at Capsule, an online pharmacy in New York City, told Teen Vogue that reactions can happen from vitamin drips because they bypass organs that would normally defend you.
"A vitamin drip is a dose of vitamins that's slowly infused into your body through a needle in your arm," Patel explained. "If you've ever seen or had a saline IV in the hospital, it looks a little like that. Because the nutrients in the drip skip your digestive system and go straight into your bloodstream, you can feel their benefits faster and in a more concentrated form (proponents often say they experience more energy, better immunity, and glowing skin). But since you're bypassing natural defense organs, like the liver, you're also more at risk for allergic reactions if the ingredients aren't well regulated or monitored. While rare, these reactions can happen if your drip contains harmful additives, herbs, or a nutrient dose that's too high. In addition, some people can experience bruising, infection, or vein inflammation."
This isn't the first time Jenner put her health first: In the past, Jenner has been open about her experiences with anxiety and panic attacks, which she has said are exacerbated by the constant traveling and social media usage required by a major modeling career.
"You go online and you see everyone saying the worst things to each other, and it's hard to stay positive," she previously told Harper's Bazaar. "It's hard not to get eaten alive by all the negativity."
To cope, Jenner has said she tries to cut down on social media and use breathing, grounding, and distraction exercises when she feels an attack coming on. With her hiatus from fashion month these past few weeks, it sounds like she's added mental health breathers to the mix, and we are so here for her dedication to self-care.
Related: Kendall Jenner Sat Out Fashion Week Because, Honestly, She's Got a Lot Going On Right Now