Kendall Jenner Sat Out Fashion Week Because, Honestly, She's Got a Lot Going On Right Now
Kendall Jenner hasn't appeared on a single runway during the many fashion week so far, but it's not that big of a deal say insiders.
---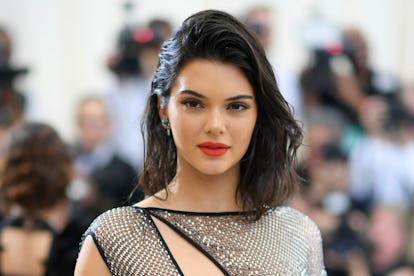 Dimitrios Kambouris/Getty Images
It's finally Paris Fashion Week, the fourth city of the main fashion month, and we still haven't seen Kendall Jenner make a single appearance on a proper runway. While the model has been a regular at shows like Marc Jacobs, Michael Kors, Alexander Wang and Versace in recent years, she's been absent at each this season, keeping a surprisingly low profile season for the woman who was just named the highest paid model in the world. In fact, her only official appearance was dropping by an Adidas Original events (where we did get a chance to talk to her), but other than that that model's last catwalk was back in January during Milan Men's Fashion Week when she was one of a handful of female models to walk the runway.
According to Kardashian Jenner sources who talked to People, there's no major reason why other than that she's been sort of busy lately.
"She had other working commitments this year," said one of their sources. "Kendall always decides last minute what she is walking in. It depends on the money and how she is feeling," added another. A third added that there wasn't any "severe" reason. The break does however come after a Keeping Up With The Kardashians storyline that addressed the model's anxiety issues that ended with her vowing to find ways to handle it better.
Last week, she did post herself sloping down a mountain on a snowboard with the caption "time off." So we shouldn't be surprised that she's otherwise occupied.
It's not particularly uncommon for a bluechip model to take a season off here and there for personal reasons, other work commitments or opportunities. It also doesn't mean that Jenner's model workload has slowed down in other areas.
Since the beginning of 2018, she's appeared in new campaigns for Missoni, Calvin Klein (with her sisters, of course), Tod's, and Ochirly. She's also appeared in fashion spreads or on the cover of Vogue Korea, Harper's Bazaar, and V. Not a bad tally for a year we're less than two months into.
Though, it's still possible Jenner could jet off to Paris to walk shows during the rest of that fashion week, People says she was spotted at NoBu in Beverly Hills just yesterday. Paris Fashion Week runs though March 6th. She has historically been a regular at Chanel, Balmain, and Miu Miu, and those shows aren't until later in the week.
Related: Kaia Gerber Is Already Topping Kendall Jenner and the Hadids at Instagram by Engagement