Kendall Jenner Dances and Turns Into a Mermaid For Her Newest Job
The supermodel stars in a whimsical campaign for a European retail giant.
---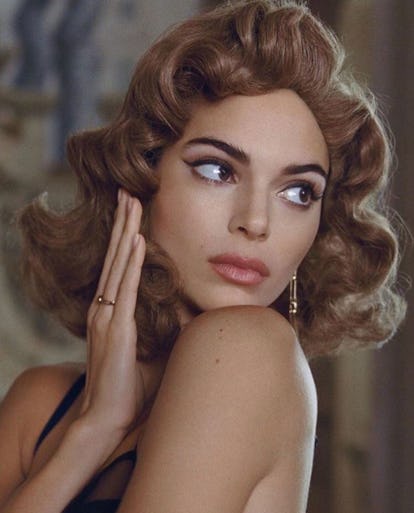 Instagram/@kendalljenner
Kendall Jenner stars in a new fall 2019 campaign (titled #CiaoKendall) for the Polish retail giant Reserved. The 23-year-old supermodel appears in a whimsical, Italian-inspired short film, directed by the highly esteemed Gordon von Steiner, in which she dons multiple wigs, dances in a purposefully stilted style—while seemingly in a trance—and eventually dives into an enormous fish tank, transforming into a glittering mermaid.
Jenner wears a number of sleek looks in the video: sexy lingerie, a minimalist A-line skirt and turtleneck, a leather skirt and crop top, and a floral slip over a heather gray T-shirt. Reserved is a major high street chain in Europe, selling fast fashion to the masses. It has locations in 33 countries outside of the United States; it's mostly in Europe, but also operates stores in Middle Eastern nations like Saudi Arabia, Qatar, Egypt, and Israel.
While her sister Kim Kardashian is famously averse to dancing (remember Kim's brief run on Dancing With the Stars? Or when Prince tried to get her to dance with him onstage and she was like, absolutely not?), Jenner often busts a move when modeling—she's danced for the Love Advent Calendar, and in campaigns for brands like Stuart Weitzman.
It's been a big week for Jenner. Besides the Reserved campaign, she also appeared in a major new campaign for Giambattista Valli's new collection for H&M—remember that gorgeous hot pink dress from the collection that she wore in Cannes? And while the model sat out Paris Fashion Week, she did attend the biggest event of the season: the Bieber wedding in South Carolina.
"I always just like to wear what I like and what I feel good in," Jenner told Vogue on October 1. "I'm not too concerned about everybody else. I had someone ask me that recently. I was wearing a pretty extravagant dress last week, and when I put it on, someone I was with was like, "Do you want the whole world to like it, or do you just want to like it?" I don't care about everyone else, because everyone is always going to have something negative to say about something."