Kendall and Kylie Jenner Launched Their Topshop Lingerie Collection in an Uncharacteristically Quiet Fashion
The sisters have not yet promoted the new collaboration.
---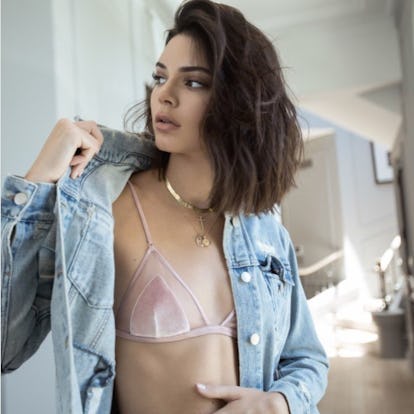 Topshop
Kendall and Kylie Jenner aren't usually shy about self promotion on social media. (After all, their family has built a career out of it.) But when their new collection with Topshop dropped today, there wasn't as much as a tweet or post about it from either of the sisters.
It's all the more notable that the Kendall + Kylie lingerie collaboration is inspired by the duo's own style. Indeed, the 30-plus pieces of intimates they released look like they could have been sourced from Kendall and Kylie's closets. They're full of lace, velvet, jersey and mesh takes on bras, bodysuits and bottoms, including a full on mesh catsuit for $160 and a cropped mesh turtleneck for $90 that's reminiscent of the one Kendall paired ripped jeans with while out during Paris Fashion Week, which Lorde later channeled at the 2017 Billboard Music Awards.
Like Kendall's take on the mesh turtleneck, some of the Kendall + Kylie lingerie pieces are styled to be fully shown, rather than just worn underneath clothes. "Beautiful lingerie shouldn't be completely hidden under clothes anymore," reads a quote from Kendall on Topshop's website. In the promotional images, she shows exactly that, wearing a millennial pink velvet and mesh bra with a denim jacket and jeans.
Perhaps Kendall and Kylie are staying quiet because of recent controversies. Their last collection included a Chinese takeout bag that bared a striking resemblance to one from Kate Spade's Fall 2014 collection, which was also an odd move for a brand that has a history of being accused of cultural appropriation and plagiarism. This past summer, Kendall and Kylie also put their faces on t-shirts that used the likeness of artists like The Notorious B.I.G. and Tupac, Led Zeppelin, Pink Floyd, and Ozzy Osbourne without permission. Jenner opened up about another questionable business decision she made, recently on Keeping Up With the Kardashians, referencing her controversial Pepsi ad. "I was so stuck and I really didn't know what to do, so I completely shut down," she said, before adding. "I just felt so f-cking stupid. The fact that I would hurt or offend other people was not the intent, and that is what got me the most."
A Celebration of Kylie Jenner's 20 Years of Not Letting the Critics Get Her Down
Watch: Kendall Jenner Gets Real, "I'm Weird, I Love My Tits Being Out"