Celebrities and the Kennedy Family Are Protesting the Trump Administration's "Zero Tolerance" Immigration Policy With a 24-Hour Hunger Strike
Alec Baldwin, Keegan-Michael Key, activist Dolores Huerta, and 45 members of the Kennedy family have all signed on.
---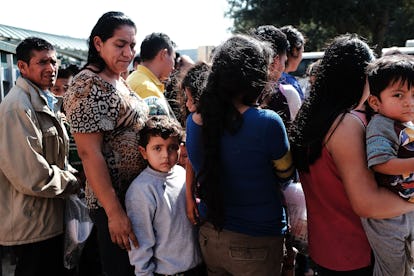 Spencer Platt/Getty Images
Spurred by the Trump administration's "zero tolerance" policy on immigration—which, until earlier this week, included a practice of separating children from their families at the border—Robert F. Kennedy Human Rights has launched a 24-hour hunger strike over 24 days in protest, aimed at reuniting the approximately 2,400 young people with their parents.
Kerry Kennedy announced the hunger strike alongside Dolores Huerta Saturday in McAllen, Texas—the home of what a USA Today story described as "the largest detention center for migrant children separated from their families." Kennedy, the daughter of Bobby Kennedy, and Huerta stood in front of a half-century-old photo of the late Kennedy fasting with Cesar Chavez; Huerta, according to the Los Angeles Times, was also a part of that protest for farm laborers' rights. (Huerta and Chavez cofounded the National Farm Workers Association.)
"We will not rest until the very last one of these children is reunited with their families," Efrén Olivares, racial economic justice program director at the Texas Civil Rights Project, told USA Today. The protest has already garnered the support of 44 additional members of the Kennedy family (including 90-year-old Ethel Kennedy), as well as 10 congresspeople, a senator, and celebrities like Alec Baldwin, LeVar Burton, Martin Sheen (alias Jed Bartlet), Alfre Woodard, Gina Belafonte, and Keegan-Michael Key. Activist and Women's March organizer Sarah Sophie Flicker also traveled to Tornillo, Texas, where she Instagrammed protesters. The hunger strike will take place ice-bucket-challenge-style, with each participant fasting for 24 hours before passing off responsibilities to peers over the course of nearly a month. It even has a hashtag: #BreakBreadNotFamilies.
The hunger strike is the latest in a series of protests on social media and in real life aimed at ending the "zero tolerance" policy; on June 30, a whole slew of protests are scheduled to take place across the country in opposition to the practice.
Watch: The Fashion Industry Stands with Immigrants