Kenneth Jay Lane's Last Interview: Glamour, Wisdom, and a Lot of Dish
Shortly before his death, Kenneth Jay Lane, the king of maximalist bijoux, caught up with Tory Burch, the queen of all-American fashion. What was on their plate? Plenty.
---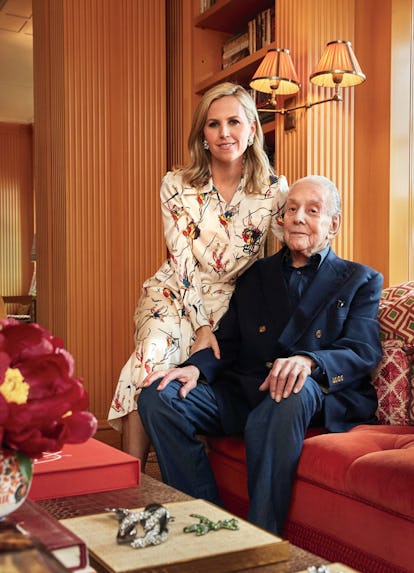 Photographs by Gus Powell, Sittings editor Esmé René; photography assistant: Zach Ramey
In 2004, when Tory Burch first launched her clothing label, she wasn't thrilled at the prospect of designing under her own name. "I was still trying, at that point, to have some privacy," she recalled, rolling her eyes at her youthful naivety. "So I called it Tory by TRB. It was a horrible name."
Horrible or not, the moniker stuck for two years, until one night over dinner, her friend the costume-jewelry designer Kenneth Jay Lane—who passed away in July at the age of 85—decided to level with her. "We were at a small party at somebody's house," recounted Lane, who, on a rainy summer day, was lounging on a sofa at Burch's apartment in the Pierre hotel, in New York, dragging on his umpteenth cigarette of the afternoon. "And I said to Tory, 'Tory, why the hell are you Tory by TRB? Who is TRB? Why don't you just call it Tory Burch? For God's sake, everyone's calling it Tory Burch anyway!"
And so, the very next morning, she changed it.
Lane's name might not be as widely known as Burch's—Forbes recently ranked Burch No. 73 on its list of the world's most powerful women—but in the overlapping circles of fashion and high society, he was a ­rhinestone-studded powerhouse. Seemingly every style icon of the past half-century—Princess Di, the Duchess of Windsor, Jackie O., Lady Gaga—has rocked his fabulous fake jewels, often mixing them with seven-figure Van Cleef & Arpels and multicarat Cartier. Lane's namesake business had been going strong for nearly six decades, and two years ago, at the age of 83, he decided it was time to get into e-tail, "because," he said simply, "that's where it is today."
So when Lane gave advice—which, by all accounts, he did frequently and without much subtlety—people tended to listen. "Well," he told me with a shrug, "I have seen it all."
Burch and Lane first met about a dozen years ago, at another party, not long after she'd opened her first shop, on Elizabeth Street in New York's NoLIta. She invited him for lunch and a visit; he liked what he saw. "I was impressed because it wasn't trendy. If you wanted a leopard-print something, there was leopard. I remember a gold leather skirt. It was what normal women would like to wear," he said. And this season, they can wear it with a few extra sparkles. Kenneth Jay Lane for Tory Burch, a capsule collection of Art Deco–inspired earrings, bejeweled dragonfly pins, and other glittering baubles, debuts this month. Burch selected the pieces from Lane's enormous archive—he had about 2,500 different styles in production at any given moment—to complement her fall collection, which was inspired by Katharine Hepburn's character in the 1940 George Cukor classic, The Philadelphia Story.
The film is a particular favorite of Burch's, who grew up outside of Philadelphia; she didn't know, when she suggested the collaboration, that it also had special resonance for Lane. "It was based on the life of Robert Montgomery Scott's mother, Hope Scott," he said. "She lived to be 90—and I knew her!"
But of course he did. Since arriving in New York in the 1950s, Lane crossed paths, fancy lunched, disco danced, traded gossip, and sipped Campari on the rocks (his signature quaff) with pretty much everyone who was anyone: Edie Sedgwick, Diana Vreeland, Babe Paley, Nan Kempner, Andy Warhol, Brooke Astor. The list goes on—and on and on. If navigating high society were a sport, Lane would have surely been a gold medalist. And what's more, he out-endured pretty much all of his competition.
No doubt there was some loneliness involved in being the last man standing, but there were also certain privileges, including the freedom to gossip viciously, and ­deliciously, without stepping on any toes. Best-dressed-list stalwart Kitty Miller "was ugly as sin," Lane said with a devilish grin. "I mean she really was ugly." And Molly, Duchess of Buccleuch, "was not a small woman"—which made her diamond belt, featuring stones from Charles II, all the more impressive. "The belt was big enough that it went all the way around her. Amazing belt! It had a lot of diamonds, and big ones. And when I say big, I mean big. I saw it on her, in England."
And then he hightailed it back to New York, where he made his own version using resin stones from a company called Standard Plastic. The Duchess of Windsor bought the prototype straight off the workshop table. "She insisted on having it!" Lane said. "The sample!"
The duchess became one of Lane's most devoted customers, regularly mixing her serious royal jewels with his twinkly clip-on ­earrings and kooky brooches. In fact, ­Eugenia Sheppard's column about Windsor and her "Kennies" in the New York Herald Tribune earned Lane an exclusive deal with Saks. But Lane seemed to take more delight in the fact that the duchess once helped him show up a snooty aunt who looked down her nose at his mother.
"My mother's sister-in-law was a little bit on the grand side, if you know what I mean," Lane recalled. "And my mother wasn't on the grand side. My mother was normal. So they were visiting, and we walked into La Grenouille, and in the corner were the Duke and Duchess of Windsor. Well, the duchess got up on her knees on the banquette wearing my diamond belt and she did a little shimmy. She said, 'Look at me, I'm Mrs. Kenneth Jay Lane!' And then the duke said to my mother, 'Mrs. Lane, your son is ruining me!' And when we sat down at our table, my aunt couldn't say a word. Not a word! She was paralyzed."
The story, one of Lane's favorites, neatly summed up his outlook. Despite his high-flying friends and appreciation for the good life (he resided in one of the few remaining mansions on Park Avenue: a designed-to-the-nines Edwardian duplex full of European antiques, 19th-century Orientalist art, and beaucoup de silk fringe), Lane never really had it in him to be a full-fledged snob. He admitted that his first job in fashion was as a salesclerk at Saks in his native Detroit—and that he did it just to get the discount on cashmere sweaters. (He worked for a month, stocked up on knitwear, and bolted.) After graduating from the Rhode Island School of Design, he scored a more prestigious post, in the art department at Vogue. "I was the only person they'd ever hired right out of school," he said. "They brought me in to fill in for somebody who was on holiday for the summer, and then I talked her into becoming a nurse so I could steal her job."
He left the magazine to design shoes for Delman and Christian Dior, "and then the jewelry thing just sort of happened," he said. "Arnold Scaasi asked me if I'd do some shoes for him, and he wanted rhinestones on the shoes, and then I suggested doing some earrings and blah-blah-blah, et cetera, et cetera, that was that. The New York Times did an article, and it had to be sold somewhere, so I took my first little bag of tricks to Bonwit Teller. The buyer bought six pairs, and they sold in six minutes, and then, boom! I was selling at every store on Fifth Avenue in one month."
Lane credited his success and longevity to the fact that he somehow instinctively knew what "normal" women want to buy and wear—an understanding he believed today's retailers don't share. "The stores don't get that there are not only trendy girls around," he said. "There are women. And there's a big difference between women and young girls."
Real women, he said, want the same things they've always wanted: pieces that complement them, that make them feel like their best selves. Homely Kitty Miller, for instance, "was never, ever, ever seen in the daytime without diamond earrings, because then you didn't look at her ugly nose. And a beautiful woman, on the other hand, wants something to draw attention to her face." These days, he complained, "if you go to the department stores, you can hardly find pearls. Women want pearls! A tart could become a lady with three strands of pearls. In five minutes!"
Of course, plenty of respectable ladies have rocked Kenny's "pearls" over the years, too. Barbara Bush wore one of his chunky chokers to her husband's inauguration. And Jackie Kennedy showed off a triple strand in a famous photo of John John as a toddler, sitting on his mother's lap while tangling his fingers in the beads. And that's the remarkable thing about Lane: Many of his most devoted customers could well afford to spring for the real thing, and do.
Burch, who has worn her Kennies since high school and is particularly fond of an elaborately bedazzled belt that belonged to her mother, is one of them. "You mix real and costume and it's just more interesting," she said, pointing out the vintage-inspired rhinestone KJL clip-ons she was wearing that day, along with her enormous diamond engagement ring. "On me, people think they're real. And they are real! They're not real diamonds, but they are real earrings."
Which is very true. His stones may have been fake, but Lane was, without a doubt, a real designer. After all, any Diamond District hack can turn a flawless, multi-carat stone into a pretty ring. It takes serious talent to make paste and plastic look like a million bucks.