Kenya Kinski Jones Doesn't Style Her Hair, Gets Highlights
The up-and-coming model shares her beauty obsessions.
---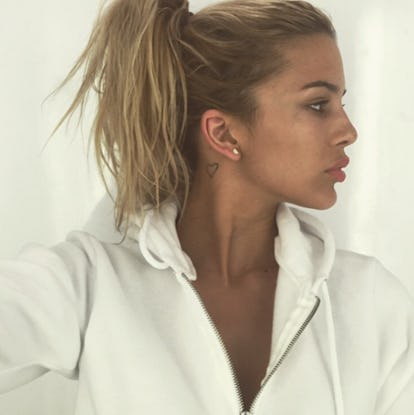 While 22-year-old Kenya Kinski-Jones is the child of stars (music producer Quincy Jones and actress Nastassja Kinski), the model certainly hasn't let it go to her head. Here, the California girl (and face of Calvin Klein Jeans) shares her down-to-earth beauty secrets.
Your look in three words: Individual, natural, chic.
Never leave the house without: Glossier Balm Dot Com, sunscreen, Simple Micellar Wipes, a couple packets of Kusmi tea.
Beauty from the inside out: I notice that water plays a really important role in how I look, but most importantly in how I feel. Sometimes I don't drink enough and it shows. When you take care of yourself and you do things that make you happy, that is what matters most.
Beauty essentials: I threw out all of my foundations when I found Glossier's Skin Tint. It's much lighter and sheerer than foundation, which I love. It's the perfect amount of coverage makes my skin glow. Chanel's Coco Shine Lipstick in Deauville is subtle, but gives my lips a flushed rosy tone. At night, I put on Weleda's Skin Food. It's all natural and really rich.
Skincare secret: When I find that my skin isn't at its best, I do a face steam. I love to get a big bowl with boiling water, put some tea bags in it, like chamomile, and then put a towel over my head and let it steam for about ten minutes. It just kind of detoxes your skin. After that, I put on a mask.
Hair remedy: don't style my hair on a daily basis, I just like to let it air dry but I do get highlights every three months. I try not to do it more often than every three months if I don't have to because it's really damaging. For that I use Davines Melu Mellow Anti-Breakage Conditioner because it's really moisturizing and healing.
Fragrance of choice: I love Beach by Bobbi Brown! I can't explain it but it just smells like a day at the beach. I'm obsessed with it. I also like Tom Ford's Portofino. It smells like the epitome of fresh.
Best advice from mom: Go! Do it! Try it!
Best advice from the pros: More is less!
Beauty icons: My mom, Audrey Hepburn, Kate Moss, Aaliyah, Naomi Campbell.
The Secret to Model Perfect Hair