Khloé Kardashian Responds to Troll Who Said She'll Regret Staying With Tristan Thompson
Don't come for Khloé unless she sends for you.
---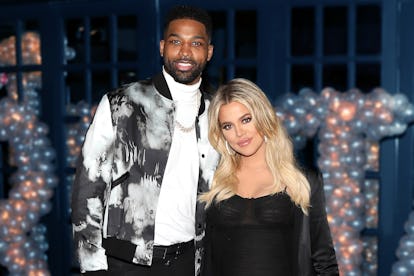 Jerritt Clark/Getty Images
Khloé Kardashian took to Twitter to break her silence on the cheating scandal that rocked the Kardashian world in April.
It began when a troll posted a judgmental tweet that suggested she'll regret her response to the scandal in a year. "A year from now @khloekardashian will be over all this and feeling salty for her super passive IG posts," the Twitter user posted on Wednesday. "She's just in the stage of 'but I love him!' Until then let her pretend he's changed and they'll be a happy family," adding the hashtag, "#WednesdayWisdom."
The drama in question revolves around Kardashian seemingly standing by Cleveland Cavaliers boyfriend Tristan Thompson following the public revelation that he had reportedly cheated on his girlfriend during her pregnancy. The news broke just two days before Kardashian gave birth to daughter True on April 12. While this Twitter user is certainly not alone in her skepticism over Kardashian's decision, she is one of the few people Kardashian has made a public comment to about the scandal.
"Babe that's not wisdom at all because you're assuming you know who I'm talking about and you're assuming you know my feelings," Kardashian wrote back. "Assuming anything is anything but wisdom."
The youngest Kardashian has mostly stayed silent through the turbulence of her relationship with Thompson, but she has hinted at her feelings through cryptic posts on social media, especially her Instagram stories. On May 26, she wrote, "You can be a good person with a beautiful spirit, and still possess the authority to tell someone: 'You got me fucked up,'" and just two days earlier, she posted, "Something you've been praying for is about to happen for you. You've had enough lessons. You've been patient long enough."
While the precise meaning of the posts is hard to decipher, it seems that Kardashian is trying to heal her relationship—she's been spotted at a handful Cavaliers games in the past few weeks. While fans will likely have to wait until the next season of Keeping up With the Kardashians to learn more about what's going in Khloé's head, one thing is clear: This Kardashian sister is not interested in your commentary about her relationship. Meanwhile, big sis Kim may be more open to hearing any and all Tristan criticisms…
Related: Here Are the Real Heroes of the Kardashian-Jenner Family