Kim Kardashian Is Dropping Three New Kimoji Fragrances Based On Her Favorite Emojis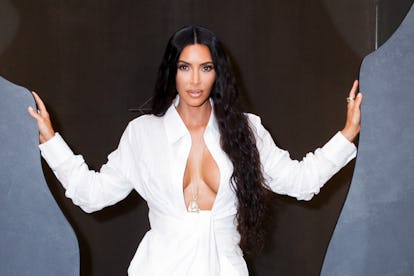 Presley Ann/Getty Images
Drop everything, including your perfume bottle: Kim Kardashian is launching three new Kimoji fragrances in July.
A KKW Beauty brand rep has confirmed to W that the launch will be a three-parter based on Kim Kardashian's most beloved emojis. One bottle will be shaped like a peach with dripping cream on it; The second will be a cherry covered in dripping cream; And the third, perhaps most SFW scent, is a bottle that simply reads "Vibes."
The announcement came hidden in a press release about the KKW Beauty pop-up shop, which opens Wednesday at the Century City mall in Los Angeles. The brand shared a store calendar of events, which include National Selfie Day on June 21 and a private store opening party for 100 winners on June 30 alongside the news of the July 14 perfume release day.
Fans can expect something truly extra when the new scents drop, as per usual when Kim Kardashian launches a fragrance. Most recently, she released KKW Body, a perfume bottle that was mocked up from a mold of her actual nude body. Before that, she changed the game on Valentine's Day with candy-shaped Kimoji Hearts fragrances—including the one she sent to various haters—that went viral for being so addictively interactive.
The new perfumes will be a continuation of her Kimoji-themed fragrance line, most likely designed to resemble her fave existing Kimojis. Kardashian is no stranger to shopping her own collection to repurpose ideas — the dripping cream peach is already available in both surprisingly sexual (although not as sexual as her post-tit notes) USB version and in earrings. No word on how the fragrances are actually scented, although we can assume they'll have notes of peach, cherry, and, well, whatever vibes smell like, respectively.
All three fragrances will be available on July 14, online and in-store at the pop-up.