Kim Kardashian Was on Ecstasy When She Made Her Sex Tape (And Also When She Got Married in Vegas)
Oh, and also during that "tape."
---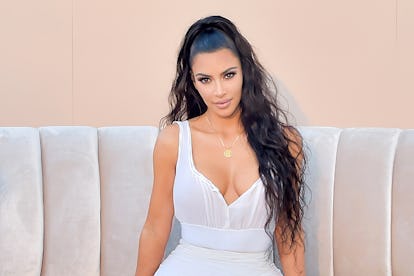 Stefanie Keenan/Getty Images
Kim Kardashian has gotten a bad rap as the least-fun Kardashian-Jenner, a title bestowed upon her by her very own family. While her Keeping Up With the Kardashians co-stars Kendall Jenner and Scott Disick fill their filming obligations with daredevil activities, like jumping out of an airplane, Kardashian is more inclined to fill her screen time by Facetime-ing various members of the Kardashian clan, which, while drama-inducing, is not exactly adrenaline fueled. And then there's her aversion to alcohol, an ongoing joke on the show, and a stark contrast to momager Kris Jenner, who may love her martinis more than her 10 percent cut (okay, probably not).
But Kardashian would officially like to set the record straight: Not only is she still fun, she was once, in fact, quite wild. So wild, in fact, that she was on ecstasy during two of the most infamous milestones of her existence: her 2000 Las Vegas wedding to music producer Damon Thomas, and her 2003 sex tape with Ray-J.
The revelation came to light on Sunday's episode of Keeping Up With the Kardashians, when Jenner claims that she's "heard stories" about Kardashian's former wild child days. Disick chimes in to add what he's heard: "You went to Disney all high or something. Six Flags?" Jenner is shocked to hear her big sister "got high." Allow Kardashian to clarify: "I got married on ecstasy. The first time. I did ecstasy once, and got married. Then I did it again and made a sex tape. Like, everything bad would happen." So yes, Kardashian was high when she made her sex tape. "Absolutely," she continued. "Everyone knows it. My jaw was shaking the whole time."
Of course, no story about Kardashian's wild days is complete without a cameo from former bestie Paris Hilton. "When I first started to travel, one night Paris and I stayed in Ibiza," she added. "We go to a foam party. We leave the club at 7 a.m. I'm like, 'Guys, we're going to the beach.' We go to the beach and there were buoys in the water that made a big square, and I'm like, 'Let's sleep in the ocean.' We locked arms on rafts and spent the night in the ocean."
So there you have it: Kim Kardashian is officially not the least-fun Kardashian anymore. Sorry, Kourtney.
How the Kardashians Celebrate Thanksgiving
"I'm on gravy duty, and I'm loving it," Kim Kardashian told reporters on the day before Thanksgiving in 2011, which she spent doling out a portion of the 80 gallons of gravy that the L.A. Mission served the homeless.

Tommaso Boddi/Getty Images.
Fret not if you're having trouble reading this menu from the Kardashians' Thanksgiving in 2013: Other than the fact that there's a total of seven desserts, including "Kris's famous Lemon Cake," the only line you really need to pay attention is "Khloé's famous Macaroni and Cheese," spelled out in Apple Chancery.

Courtesy of @krisjenner
The next year came with a visual of Khloé Kardashian's "famous" mac and cheese, which was overshadowed by her fascinating poor photography skills.

Courtesy of @khloekardashian
Luckily, Khloé seemed to have taken a crash course in food photography by the next year, when she shared snapshots of more meals she'd cooked up in "Koko's Kitchen."

Courtesy of @khloekardashian
Khloé shared a picture of the setting for her first Thanksgiving at her house, rather than at her mom's, with a caption that read, among other things, "manifest beauty in your life."

Courtesy of @khloekardashian
It may have been taken just three years ago, but this one's a real throwback: The 2015 edition of the Kardashian-Jenner Thanksgiving saw the "blended family," as Kylie Jenner put it in the caption of the photo above, come fully together, with nearly everyone's then-partner present—including Kylie's now ex Tyga, and Kourtney Kardashian's then recent ex, Scott Disick. Not only did Kanye also show up to Khloé's house, but so did his big ole grin.

Courtesy of @kyliejenner
The family member with perhaps the most significant presence that year was baby Reign Disick, who spent at least part of his first Thanksgiving in the arms of his mom, Kourtney.

Courtesy of @kourtneykardash
The desserts served at Khloé's, as lusted over by her sister Kourtney on Instagram.

Courtesy of @kourtneykardash
No longer exactly the baby of the family, Kylie hosted her first Thanksgiving in 2016, decorating her home in Calabasas in white and gold, including hundreds of roses.

Courtesy of Kylie Jenner's Snapchat
The evening was a Jenner affair, amid what was otherwise a less than bright time for the family. (Kanye had just been hospitalized, only a month after Kim's infamous robbery in Paris.)

Courtesy of @caitlynjenner
Kim and Kanye may not have been there, but Kylie's then boyfriend, Tyga, did manage to come through, wearing an appropriately autumnal flannel for the occasion.

Courtesy of Kylie Jenner's Snapchat
While pregnant, Kylie once again took up the hosting duties for last year's Thanksgiving, this time with a hint of a Valentine's Day theme.

Courtesy of Kylie Jenner's Snapchat
Ahead of their stint on Family Feud, the Kardashian-Jenners played a game or two of Taboo.

Courtesy of Kylie Jenner's Snapchat
Behold: what Kendall Jenner ate for Thanksgiving in 2017. (According to her Snapchat, anyway.)

Courtesy of Kendall Jenner's Snapchat
Leave it to Kim, pictured here with her mom and her grandma M.J., to dress for Thanksgiving as if she were in a Yeezy campaign. (Without, of course, any hint of bloating.)

Courtesy of @kimkardashian
For dessert, Kylie served autumnal doughnuts and turkey-shaped Rice Krispie treats, among other goodies.

Courtesy of Kylie Jenner's Snapchat
Having handed over the responsibilities to Kylie, Kris was able to spend some of the night hanging loose.

Courtesy of Kylie Jenner's Snapchat
Twenty eighteen brought an adventure to the great outdoors, which no one seemed to enjoy more than Kanye.

Courtesy of @kendalljenner
Thanks to her father's prior athletic commitments, True Thompson was forced to spend her first-ever Thanksgiving in Cleveland. Her mom, Khloé Kardashian, made up for it by bathing their corner of Ohio in millennial pink.

Courtesy of @khloekardashian
Back in Calabasas, Kourtney Kardashian, Scott Disick, and co. also kept it (relatively) monochrome in green.

Courtesy of @kourtneykardash
Meanwhile, Kris Jenner coordinated with herself—in $8,000 worth of Versace, no less.

Courtesy of @kourtneykardash