Kim Kardashian Finally Reveals Why She Decided to "Part Ways" with Former Assistant Stephanie Shepherd
The once-inseparable duo suddenly broke up in November.
---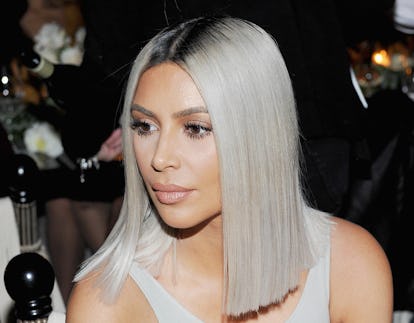 Photo by Donato Sardella/Getty Images for The Tot
As we are all aware by now, the Kardashian family is good at keeping a secret. Hell, they almost successfully hid an entire pregnancy this year. And while it may be frustrating to not know every intimate detail of their lives, just know that in due time, the truth will come out. First came Kylie Jenner's 11-minute birth announcement. And now, a new lingering concern has been resolved: Why did Kim Kardashian part ways with her former assistant and constant companion Stephanie Shepherd?
On Sunday night's episode of Keeping Up With the Kardashians, in what was a seemingly throwaway scene (note pregnant Khloe Kardashian doing a puzzle in the background), Kim finally spoke out on the matter, as she recounted the professional breakup to longtime friend Allison Statter over the phone. "I said, 'I love you a lot, like a sister, and this conversation is really hard for me to have. But I just think that you've outgrown your position here,'" Kardashian said. "She was like, 'I totally get it and I totally respect you and you've taught me everything. I'm so grateful and I've been with you for five years.'"
Sounds fairly amicable, after being rumored to have been a dramatic and sudden split over a number of speculated topics, as well as rumors that the pair "aren't speaking" after the split, per People. But alas, no drama here (hence the one-and-done scene, and not a full storyline).
"Stephanie and I have decided to part ways," Kardashian continued. "She wanted a different role and I was going in a different direction, so for both of us, I just felt like it wasn't the right fit anymore… She's really been there for me. So I said, 'I love you so much, and maybe this is good to push you to figure out what you want to do. ' It ended really well. She knew that she needed this time and that it wasn't working."
But don't cry for Shepherd—she's doing just fine. The former assistant currently boasts 1 million followers on Instagram, where she posts pictures of herself hanging out with the likes of Emily Ratajkowski and Alexander Wang, along with paid vacations around the world and plenty of selfies. Hey, she learned from the best.
Related: Jennifer Lawrence Admits Her Friendship With Kim Kardashian Is Probably One-Sided
Here Are the Real Heroes of the Kardashian Jenner Family Empire