Hiding in Kim Kardashian's Fridge Is Your Best Bet for Surviving the Apocalypse
Take a look inside—before it's too late.
---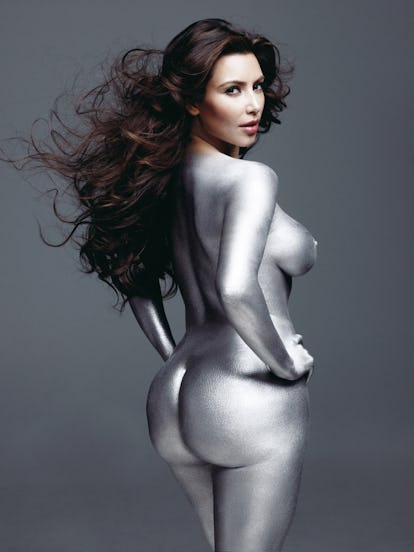 Mark Seliger
The world is burning, both literally and metaphorically. But for the time being, anyway, you can always take refuge in the alternative universe of the Kardashians' social media feeds, where the drama consists of debates over the contents of Kim Kardashian's refrigerator. After spending a full year and a half drama-free, the appliance in question returned to the headlines this week when it joined Kardashian in a photo she posted to promote her shapewear line, Skims. Inadvertently, she also gave social media users the opportunity to once again inspect the contents of her fridge—and, naturally, transform them into something controversial.
This time, the issue wasn't plastic; it was an abundance of milk and blank space. "Do you eat air?," one fan responded—a question that made it into one of the headlines that Kardashian later tweeted, apparently highly amused. "Go to my IG stories for a Fridge tour asap!," she ordered her millions of followers, between a sandwich of six laughing-crying emojis.
Platform jump aside, the tour did not disappoint. On Instagram, Kardashian posted an 11-part series that was at least 11 times more baffling than the original snapshot. "I saw a bunch of comments from people wondering how I feed my 4 children and since you guys are dying to know, here a little peak [sic] inside our main fridge filled with lots of fruits and veggies!," she wrote in a caption. (Notice her use of the word "main"—this is just the beginning.)
Of course, what was ostensibly visual assurance that North, Psalm, Chicago, and Saint weren't going hungry was really just a flex. But this time, the realm of Kardashian-Jenner excess offered more than just a mental refuge from the world's horrors. While the visual components of the Stories only last 24 hours, their implications are long-term: Deep in the heart of Calabasas, there exists a refuge fit to accommodate many, many more than the Kardashians when we reach the end times.
First things first: It's common knowledge that the Kardashian-Wests live in a marble—which is to say non-flammable—home. Of course, a fortress is useless if you can't survive long inside, which brings us to the Kardashian-Wests' grocery-store level food supplies. From the look of the admittedly grainy videos, the family has absolutely everything.
There is, however, one minor exception: plastic. Kardashian's first order of business is to stress its absence, apparently having learned from her past fridge fiasco (and her sister Kendall's recent plastic bottle cap faux pas). "I got rid of all my plastic, so it's all glass jars," Kardashian says as she walks into a giant pantry, tapping on a container of what appears to be multicolored dried fruit for proof. "Even all my sprinkles and stuff for my frozen yogurt," she adds, spinning one of three stacks that hold a larger variety of sprinkles that you'd find at your average grocery store.They're located nearby a pantry, which is devoted exclusively to a frozen yogurt machine. Clearly, space isn't an issue for Kardashian: The room for "little snacks" that she only briefly flashes as an aside appears to be larger than most bedrooms in New York City.
In terms of longevity, frozen food is key. Fortunately, Kardashian's freezer is the size of a typical refrigerator. It's even located next two refrigerators—a mostly empty one that contains solely water, and a "drink fridge" that contains a variety of beverages, from "fresh juice" to "fresh water" to yet another supply of milk. "All my kids use a different kind of milk, you guys," Kardashian chides playfully.
It's unclear where exactly in her home these treasure troves are located, but Kardashian does climb up a set of stairs to continue the tour in a different, larger kitchen. Her move suggests the pantry is underground—in other words, the ideal location for a bunker. The possibility exists that this kitchen (naturally, one of several) is underground, too, as there's still no hint of natural light. In any case, the floor certainly offers steel-clad refuge. "Guys, I have a walk-in refrigerator!," Kardashian cries, opening the door with a grand flourish to reveal a true nature's bounty of "all fresh, organic produce."
Whether or not grocery stores will continue to operate during the apocalypse remains to be seen. In the event that they don't, though, Kardashian has a plan that just might keep her walk-in fully stocked. "We are building on the property all organic trees to grow our own vegetables and grow all of our own stuff," she says. "It did look like an empty refrigerator that I took the photo in front of, I have to admit." But this is our big, main refrigerator, guys." (Once again, note her use of the word "main"—and the fact that there's an easily accessible keypad to control the fridge's temperature, with the added bonus of a sturdy window.)
"I also have another pantry," Kardashian says, panning over shelves and shelves of nonperishable foods. She also has another refrigerator, which is also filled "with tons of oat milk and almond milk"—at least 10 giant containers, to be precise. Naturally, it's located next to yet another freezer—one that's even more fully stocked.
If the tour left a bad taste in your mouth, you're not alone. Twitter users urged Kardashian to donate to hungry and homeless children, in between jabs like "your fridge has more depth than your entire family." But desperate times call for desperate measures, and it's worth keeping in the back of your mind that at the rate things are going, your best chance for survival might be in Calabasas. (It's nowhere near ideal, but certainly not the first time we've had to acknowledge the mind-boggling extent of the Kardashians' sociopolitical capital.)
After all, palatial as their home may be, there's only so many that the Kardashian-Jenners can fit. Here's hoping Greta Thunberg gets moving on accepting Kardashian's invite to dinner; otherwise, her pantries might first fill up with pals like her texting buddy, Jared Kushner.
Related: It Shouldn't Take Kim Kardashian to See a Little Justice in America's Broken Criminal Justice System