Kim Kardashian Wore a Gucci Thong So Iconic, It's in An Art Museum
Down the back, but who cares? Still the Met.
---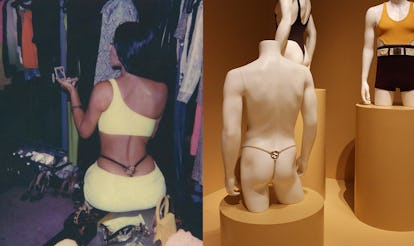 Photos courtesy of Instagram @kimkardashian @ginocampodonico.
If the world revolves around Kim Kardashian's curves, we might as well get a fashion history lesson out of it occasionally.
The extended Kardashian-Jenner family have been on something of a vintage fashion kick. Kardashian herself has had a penchant for vintage Versace gowns as of late, but perhaps the vintage dress her sister Kylie wore to one of her recent 21st-birthday parties was what inspired Kardashian to find a new obsession: Tom Ford–era Gucci.
Though designer Alessandra Michele's vision for the Italian house has made it one of the hottest in all of fashion at the moment, Tom Ford's work for the house in the '90s through the early '00s still looms large in the fashion vernacular. His mix of sleek (and cheeky) sexiness with Milan sophistication seems particularly fitting for the image that the Kardashian-Jenner sisters prefer to exude, and there may be no item more representative of Ford's brand of sexiness than the iconic Gucci-logo thong.
So when Kardashian Instagrammed a photo of herself wearing one while in Miami over the weekend, the only question we had was, Why hadn't she worn it sooner?
Ford teased the fashion world when he sent the item down the runway as part of his spring 1997 collection. It was first shown on a female model paired with an off-the-shoulder top, but then, as if to really push the titillation further, a male model came out in a matching one styled only with shoes, a watch, and sunglasses. The thongs make their appearance at about the 1:18 mark below, if you (and your office) are into that sort of thing:
The g-strings (or GG-strings, if you prefer) set off a media firestorm and served as the lead for thong-y think pieces in outlets like Vanity Fair, The Guardian, and The Independent at the time. Instantly, the g-string went from a bit of a taboo (if not trashy) underwear-drawer secret to high-fashion respectability. It wasn't soon after that the "whale tail" went from fashion faux pas to deliberate red carpet styling choice. Do we not all remember iconic outfits worn by Gillian Anderson and Rose McGowan? Of course, you could look at the more recent VMA red carpets for evidence that the trend still hasn't left.
In short, yes, one really could deliver a monologue equivalent to The Devil Wears Prada's "Cerulean blue" lecture about this tiny piece of fabric. We likely wouldn't even have Sisqo's "Thong Song" without it.
Indeed, the Gucci thong is so iconic that it is quite literally in the permanent collection of the Metropolitan Museum of Art.
The men's version was also included in the Los Angeles County Museum of Art's "Reigning Men" exhibit a few summers ago.
Of course, we doubt Kardashian borrowed hers from an actual museum; the g-strings do still pop up on authenticated resale sights from time to time. But we do have to wonder what exactly the cleaning process is before wearing a 21-year-old thong bikini bottom.
Related: A Pair of Gucci Handcuffs From the Tom Ford Era Have Popped Up on the Internet For $65,000