A Pair of Gucci Handcuffs From the Tom Ford Era Have Popped Up on the Internet For $65,000
Tom Ford's vision for Gucci is still provocative.
---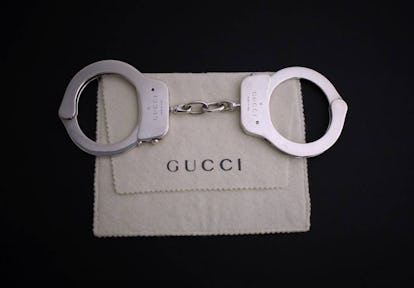 Long before Tiffany's began making "paper" plates or Balenciaga was turning Ikea-inspired totes into it bags, Gucci, under the direction of former creative director Tom Ford, had a habit of putting its own luxe spin on a surprising amount of non-fashion items. There were hand weights, dog bowls, and yoga mats. Of course, Gucci, at the time, was also known for being somewhat naughty, so there was the infamous Gucci leather "spanker." Perhaps most infamously though, was a pair of silver-plated Gucci handcuffs. The item has reentered the internet's imagination today after people noticed that a pair of the rare handcuffs popped up on the resale site Grailed for the astounding price of $65,000.
More than a dozen years later, it turns out that Ford's vision at Gucci still has a way of provoking.
The item already comes with a bit of an intriguing backstory. The cuffs were produced in 1998, the same year that Italian socialite Patrizia Reggiani was sentenced to 29 years in prison for hiring a hitman to kill her husband, Maurizio Gucci, the grandson of Gucci founder Guccio Gucci. According to press accounts at the time, the handcuffs were widely speculated to have been employed in a way to send a message.
"On the day of Patrizia's conviction, the flagship Gucci store in Florence had the spirit to put a pair of silver handcuffs on display in its window – a sign, if one were needed, that the world of high fashion has no use for ugly family feuds, except as a source of dark, sardonic humour," wrote The Independent at the time.
The coincidence was purely speculative, and anyone even somewhat familiar with Ford's tenure knows he didn't need any extra excuse to produce Gucci-branded handcuffs other than that they would have been provocative under any circumstances.
(For the record, Patrizia was offered a form of parole in 2011, but remains behind bars. "I've never worked in my life and I'm certainly not going to start now," she said at the time).
The handcuffs caught attention in other ways, however. The Swiss artist Sylvie Fleury, known for her cheeky use of luxury items in her work, employed the handcuffs in her installations, films, and silkscreens. She would go on, actually, to produce her own gold versions of the cuffs in the early '00s. They were offered as a limited set of 25.
The handcuffs are also on exhibit at the official Museo Gucci in Florence, where they sit encased next to that leather spanker.
The museum added them to its exhibits after deciding to honor Ford's contributions to the house last year.
So, it's no surprise the Grailed listing is gaining attention. The item certainly is interesting. Though, that price certainly is something of an eye-popper. According to Christie's website, they sold a pair at auction in 2009 for approximately $1913. So if you really need them to go along with your Gucci spanker and your Gucci his-and-hers g-strings from the era, you might be able to find some on the market for a more affordable price.
As for Ford though, he's moved on. He's a little bit over both sexual provocation and putting a designer label on things just because he can.
Related: Tom Ford Doesn't Get Why We Still Won't Objectify Men
A Brief History of Fashion's Most NSFW, Controversial Ad Campaigns
For their first large-scale campaign, the designers behind Eckhaus Latta enlisted a diverse group of 30-something couples to not only wear their spring 2017 collection, but have real sex in front of the camera for the photographer Heji Shin, who had produced a similar series of images for a German sex education book for teenagers.
In 1971, a nude (and largely hairless) Yves Saint Laurent posed nude for Jeanloup Sieff to debut his first-ever perfume for his namesake label, Pour Homme.
Other than her controversially "heroin chic" ads for Calvin Klein, a topless, 17-year-old Kate Moss also starred in this 1992 campaign for the brand with Mark Wahlberg—one that made her so uncomfortable, she later said it prompted a nervous breakdown.
Rumor has it that Wonderbra's billboards of Eva Herzigova caused traffic build-ups and car crashes when they went up in 1994.
It didn't take long for controversy to erupt after Steven Meisel and Calvin Klein cast a crew of apparently underage models, including Kate Moss, for a 1995 Calvin Klein campaign; eventually, CK responded to the outcry over the ad with another ad, a full page in the New York Times announcing it was pulling the original advertisement.
This infamous 2000 campaign from Yves Saint Laurent, featuring a nude Sophie Dahl, drew 948 complaints to the U.K.'s Advertising Standards Authority, making it the eighth most complained about advertisement in recorded history.
Yves Saint Laurent again pared things down for one of his perfume ads in 2002, this time swapping out the designer's likeness for a chiseled model to go full frontal.
Tom Ford and Carine Roitfeld both solidified their reputations as provocateurs when the designer and stylist drove down the fact that they were working for Gucci by shaving a "G" into a model's pubic hair for this 2003 campaign shot by Mario Testino.
American Apparel, whose founder Dov Charney has faced a litany of sexual harassment lawsuits, began its run of controversial ads depicting highly sexualized and barely clothed women—an approach that was highly successful in creating conversation, but hardly saved the brand from bankruptcy—with this 2006 campaign.
The concept of "sex sells" barely gets more explicit than in Terry Richardson's 2007 campaign for Tom Ford's men's fragrance, an ad that was banned in Italy.
"Stupid is as stupid done" is how some critics responded to Diesel's 2010 "Be Stupid" campaign, which featured images of models flashing security cameras, among other suggestive poses. Some felt the images were needlessly sensationalistic while others described them as youthful and rebellious.
Dakota Fanning's 2011 campaign for Marc Jacobs' Lola campaign was banned in England after the U.K.'s Advertising Standards Authority deemed it too "sexually provocative" for the then 17-year-old actress, who was photographed by Juergen Teller.
Thanks to a little Photoshop, Barack Obama and Hugo Chavez were just several of the world leaders found making out in a 2011 campaign by United Colors of Benneton, which has a long history of provoking with their ads.
The model Anna Ewers has long been one of Alexander Wang's muses, but the pair ended up in hot water with this 2014 campaign, in which Ewers is only just barely wearing Wang's clothes.
This 2007 campaign by Dolce & Gabbana's came to be known as the "gang rape advert" not only then, when several magazines refused to run it, but when it resurfaced online in 2015.
The U.K.'s Advertising Standards Agency also banned this 2015 Miu Miu campaign, shot by Steven Meisel, for being "irresponsible" in sexualizing an apparently underage (but actually 22-year-old) Mia Goth.
Calvin Klein courted controversy again last year with a campaign that featured a model photographed from under her dress, but the acclaimed British female photographer Harley Weir, whose work has long been interested in youth culture and sexuality, defended the campaign.