Kim Kardashian West Congratulates Khloé Kardashian on the Birth of Her Daughter
And reveals how she helped her sister deliver the new baby.
---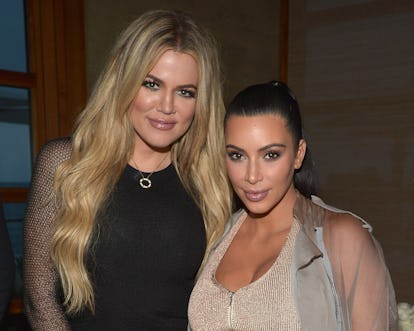 Charley Gallay/Getty Images
In case you were worried, rest assured that yes, Khloé Kardashian's sisters did make it to Cleveland in time for the birth of her daughter on Thursday. In fact, as older sister Kim Kardashian West revealed on Twitter early Friday morning, she actually played a crucial role in helping Khloé deliver her baby.
"I'm so happy for you! Your baby girl is so beautiful! You are so strong, you made that look so easy! I can't wait for our baby girls to grow up as best friends the way we are!" Kim tweeted at her sister, referring to her own newborn daughter, Chicago, who arrived on January 15. "I'm so happy I was able to return the favor of holding your leg while you pushed LOL." In a follow-up tweeted directed at her followers, Kim added, "You guys she's so gorgeous!!!!!"
Kim's congratulatory tweets come just hours after she deleted a few controversial Instagram posts, seemingly out of respect for Khloé. As People reports, as of Thursday afternoon, Kim had erased several photos from her getaway to Turks and Caicos with sister Kourtney Kardashian; the photos were posted on Instagram earlier this week, as reports surfaced of Khloé's boyfriend Tristan Thompson's alleged infidelities, leading some fans to call Kim insensitive for continuing to post during her sister's troubling time. No word on whether or not these people consider trying to provoke conflict in a family they don't even know is insensitive or not.
The rest of Khloé's tight-knit family have also congratulated her on the birth of her first child. On Thursday, mom Kris Jenner retweeted a W magazine video in which daughter Kendall Jenner repeats the word "baby" over and over, adding, "BLESSED!!!" Also on Thursday, Khloé's youngest sister Kylie Jenner posted a video on Snapchat while riding in the passenger seat of a car; a pink filter reading "Kongrats, Khloé! It's a girl!" was overlaid on top of the video, while Cardi B and Chance the Rapper's song "Best Life" plays in the background. And while Kourtney has yet to post a message explicitly about Khloé's daughter, she did take to Instagram on Thursday, shortly after reports of Khloé's delivery first broke, to post a photo of her daughter Penelope, Kim's daughter North, and a friend with the caption "GIRL POWER."
Related: Beep! Beep! Make Way for Kylie Jenner and Stormi in Their New Fendi Stroller!
Khloe Kardashian Is an Unabashed Lover of Mini Dresses and Always Has Been
Khloe Kardashian arrives at TAO Las Vegas in The Venetian Hotel and Casino Resort on February 13, 2009 in Las Vegas, Nevada.

Getty
Khloe Kardashian at the "Keeping Up With The Kardashians" premiere party on October 9, 2007 in West Hollywood, California.

Getty
Khloe Kardashian attends her birthday at Pure Nightclub on June 26, 2009 in Las Vegas, NV.

Getty
Khloe Kardashian attends the Three-O Vodka Bubble launch at Greenhouse on July 9, 2009 in New York City.

Getty
Khloe Kardashian attends the grand opening of Dash NYC on November 3, 2010 in New York City.

Getty
Khloe Kardashian attends the 12th annual Cracked Xmas gala at The Wiltern at The Wiltern on December 6, 2009 in Los Angeles, California.

Getty
Khloe Kardashian attends the launch of the Kardashian MasterCard at Pacha on November 9, 2010 in New York City.

Getty
Khloe Kardashian arrives at the premiere of Screen Gems' 'Burlesque' at Graumans Chinese Theater on November 15, 2010 in Los Angeles, California.

Getty
Khloe Kardashian arrives at Kim Kardashian's 27th birthday celebration at Jet Nightclub at The Mirage Hotel and Casino Resort on October 26, 2007 in Las Vegas, Nevada.

Getty
Khloe Kardashian arrives at the People's Choice Awards in Los Angeles, California on January 5, 2011.

Getty
Khloe Kardashian attends the 2011 Teen Choice Awards at Gibson Amphitheatre on August 7, 2011.

Getty
Khloe Kardashian attends the Kardashian Kollection launch party at The Colony on August 17, 2011 in Hollywood, California.

Getty
Khloe Kardashian arrives at the 19th Annual Race To Erase MS Event at the Hyatt Regency Century Plaza on May 18, 2012 in Century City, California.

Getty
Khloe Kardashian arrives at The 16th Annual Critics' Choice Movie Awards at the Hollywood Palladium on January 14, 2011 in Hollywood, California.

Getty
Khloe Kardashian arrives at the 11th Annual InStyle Summer Soiree at The London Hotel on August 8, 2012 in West Hollywood, California.

Getty
Khloe Kardashian arrives at Sony Pictures' Premiere of "House Bunny" at the Mann Village Theatre on August 14, 2008 in Los Angeles, California.

Getty
Khloe Kardashian arrives at NSF, The Humane Society Of The U.S. And GQ Magazine Benefit to stop puppy mills on September 22, 2009 in Los Angeles, California.

Getty
Khloe Kardashian arrives at Nickelodeon's 26th Annual Kids' Choice Awards at USC Galen Center on March 23, 2013 in Los Angeles, California.

Getty
Khloe Kardashian arrives at The Hollywood Reporter's 22nd Annual Women In Entertainment Breakfast at Beverly Hills Hotel on December 11, 2013 in Beverly Hills, California.

Getty
Khloe Kardashian attends the 2014 American Music Awards at Nokia Theatre L.A. Live on November 23, 2014 in Los Angeles, California.

Getty
Khloe Kardashian arrives at Wet Republic on April 24, 2010 in Las Vegas, Nevada.

Getty
Khloe Kardashian attends the 2015 NBCUniversal Cable Entertainment Upfront at The Jacob K. Javits Convention Center on May 14, 2015 in New York City.

Getty
Khloe Kardashian attends the Grand Opening of DASH Miami Beach at Dash Miami Beach on March 12, 2014 in Miami Beach, Florida.

Getty
Khloe Kardashian attends the 22nd Annual Elton John AIDS Foundation's Oscar Viewing Party on March 2, 2014 in West Hollywood, California.

Getty
Khloe Kardashian attends the House of CB flagship store launch at House Of CB on June 14, 2016 in West Hollywood, California.

Getty
Khloe Kardashian attends Cosmopolitan's 50th Birthday Celebration at Ysabel on October 12, 2015 in West Hollywood, California.

Getty
Khloe Kardashian attends the 2016 Angel Ball at Cipriani Wall Street on November 21, 2016 in New York City.

Getty
Khloe Kardashian attends the 2017 NBCUniversal Upfront at Radio City Music Hall on May 15, 2017 in New York City.

Getty