Kim Kardashian Wasn't Sure About Her Future With Kanye West When She Got Pregnant With North
She was certain about his sperm, though.
---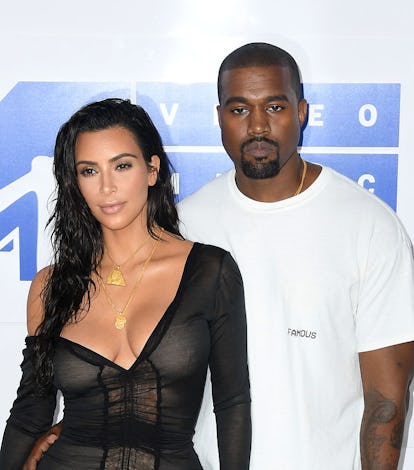 C Flanigan/Getty Images
Kim Kardashian West and Kanye West have been married for four years and have three children together. But it turns out, Kim wasn't always sure if the relationship would last.
Kim reveals this in a convoluted preview for the upcoming episode of E!'s Keeping Up With the Kardashians. In the clip, Kim tells her friend Larsa Pippen (Scottie Pippen's wife, for context) that Scott Disick, her sister Kourtney's former longtime boyfriend and father of her three children, wants to have another baby. With Kourtney. (Because when you want a fourth child, you text your co-parent's sister, duh.)
Kim is clear on the fact that this does not mean Scott and Kourtney are getting back together. They are both dating other people; Disick is still with 20-year-old Sofia Richie. But through IVF (in vitro fertilization), they can still make a baby without making love. The logic seems to be that they should do this because they both want another kid and the three they have so far are all really cute. "Why don't they just have one together even if they're not together? asks Kim. A good question. No judgments! Just confusion.
Thinking about adding kids to a relationship (or non-relationship) reminded Kim of how she felt when she found out she was pregnant with her daughter North, early in her relationship with her now husband, Kanye. At the time, she recalls, she didn't know if she and the rapper would be together for the long term, but she wanted to make sure that she could give her daughter a sibling no matter what. "When I got pregnant with North, I had no idea if Kanye and I were going to end up together." she said. "I was like, 'We can break up, but let me just at least have some sperm so I can have another one, so that I could have siblings, like, you know, it'll be all good." So, is Breakup Semen about to become a thing? Stay tuned to find out, and check out the preview below:
Related: Kim and Khloé Kardashian React to Tristan Thompson's Alleged Cheating Scandal in New KUWTK Teaser